Do you want to become an excellent communicator?

Do you want to take that next step in effective leadership?

Do you want to create a competitive edge?

Do you want to make people work with you, your team and your company?

Do you want your work to become more meaningful?
Then you're in the right place - because this programme will change the way you communicate in 5 days. We have a maximum of 9 students so please book early.
Course Summary
Testimonials
Confidentiality
Our Guarantee
Testimonials
'Dear Vince, this course was 'speaking nirvana' for me. I have to present a lot at work and I often get myself so flustered in the preparation process, worrying about the content, tone and timing. I realise I am overthinking things and I should be focusing on your simple philosophy for audience engagement. I appreciate the support too of all of the other delegates whose insightful contributions make me feel so much more confident now. I needed this course 10 years ago really. It would have saved me a ton of anxiety and many lost opportunities.'

Rachel

'Hi Vince, it was great. In fact for me, probably life-enhancing. It was much more than a public speaking course - your discussions on psychology and philosophy were an unexpected treat. I am now really looking forward to my first lecture! I have had such a phobia about public speaking, formal and informal, that I think I now have the confidence to face my new world and anything goes. I found the team were so supportive and such a refreshing change for me coming from a narrow technical background. So thanks again.'

Rick

'Thanks for an excellent course, Vince. It really has me thinking about my possibilities. I have very limited opportunities to practice on a regular basis so as the videos show, I am now a well-grounded speaker - that gives me great confidence going forward.'

Frank

'Dear Vince, I thoroughly enjoyed the course and found the whole experience intense and extremely beneficial. Much more than I imagined.'

Janine

This was a truly inspiring course. The atmosphere and the framing of the course was superb. Such fun to be in a supportive environment with two such experienced trainers. Vince and Banu are an unlikely pair, but they really know how to get the best out of their students.

Mohammed

I really had a lot of issues with speaking coming into this course and I've been concerned for a long time about my progress. I loved the energy in the classroom as well as the humour and exacting exercises. The five days flew by - I wanted it to continue into the weekend. A great course from CoPS London.

Simon

Really had a great time on the course because of my fellow students and the excellence of the teaching staff. Every moment, interaction and exercise was brilliantly planned to explore a speaking scenario. Love the creativity and interactive exercises. We were engaged every moment of the 5 days. It was clever how they built in the social opportunities too. That really helped the group to bond.

Alison
Confidentiality
We offer a totally confidential service and encourage liaising with clients before they consider booking courses. We recognise the significant investment in your time and resources. We accept your tight timescales and eagerness to take the next steps. Our payment options are practical and simple. For your security, we hold no client payment details online. With ever sophisticated cybercrime, your safety and security are paramount.
Our Guarantee
The College of Public Speaking is the UK's leading specialist public speaking organisation. All of our trainers are not just qualified in their field, but passionate specialists who live and thrive in that sphere. Our guarantee is that you'll enjoy a great learning experience at our course centre in Kings Cross. The Kings Cross venue is a 5-minute walk from the London Underground, British Rail, and the Eurostar terminals. Accessibility is key - so come and join us within the next month. Check our Offers page to see what's hot this month.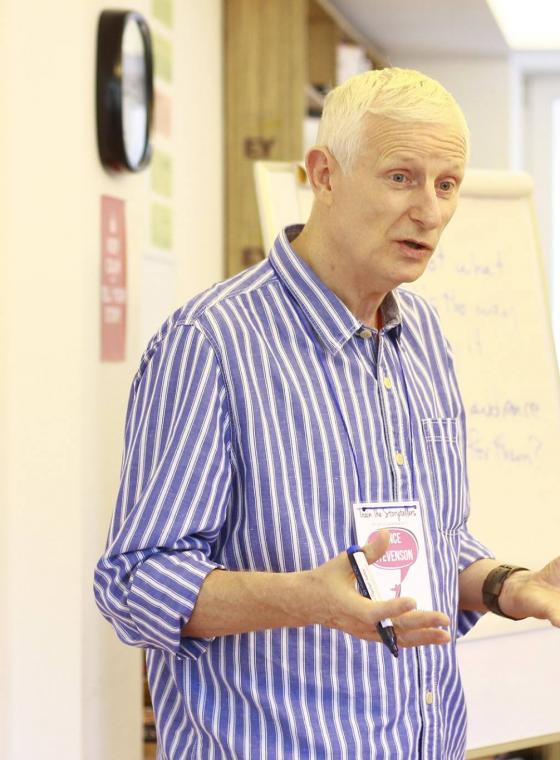 Vince Stevenson
Course Tutor
Vince Stevenson (The Fear Doctor) - Speaker - Trainer - Author
Vince is a well-known speaker/trainer and has won several awards for leadership, education and development. He is a founder of the College of Public Speaking London and works as Education Director managing all aspects of course delivery and content. Vince is also one of the UK's leading speech coaches. He has worked with leaders across the spectrum of politics, industry, finance as well as featuring primarily in a humanitarian role.
Vince is an avid learner and in recent years has accomplished many certificates in Learning and Communication Science with the University of California, San Diego, the University of Amsterdam, and Instructional Design with the Institute of Adult Learning, Singapore.
"An exceptionally useful day's training, delivered in a positive and personanable manner, very enjoyable and significant food for thought. Thank You."

"The anxiety is gone - now that I understand it. Not only can I make a presentation - I feel I have so much to give now. It's quite a transformation."

"Since attending the course, I feel like a completely different person; more confident, relaxed and easy going. I gave a speech at work last week and it went so so well."