Training The Trainer 5 Day Certification
The Margolis Method invites you to bring all of your knowledge, skills, experience, and professionalism into the classroom conversation. Try it out today with our 5-day course.
The Margolis Method espouses creativity, engagement, exploration and detailed analysis of the training solution required. Chalk and talk days are over. The Margolis Method invites you to bring all of your knowledge, skills, experience and professionalism into the classroom conversation.
Maps, local hotels and amenities - all the local research in one document for you
Course Summary
Testimonials
Confidentiality
Our Guarantee
Course Summary
So what's the difference between the 2-day and 5-day Training The Trainer course?
Days 1 & 2 are the same as the 2-day course (including ILM AND C&G accreditations)
Days 3 to 5 are an in-depth exploration of training engagement tools and techniques which will help you find the correct tool for the intended training context.
Knowing about these tools is valuable, having the confidence to pull it off in the classroom is your next step up the career ladder. There are many psychological techniques that can be applied to promote inclusion, motivation and student buy-in. This is a class where you can practice them with your colleagues in real-time.
Course trainer Alan Margolis is an expert in experiential learning – he cast chalk and talk techniques aside decades ago. Come and witness the Margolis Method on this 5-day course.
Is your training manager reluctant to send you on the course? Email College of Public Speaking founder, Vince Stevenson who'll discuss with you a training proposal that all forms of managers would like to read. Becoming more productive, achieving more and creating individual, team, departmental and company success, is what all managers want to witness from their training investment. If you're serious about attending the course and have a strong track record of achievement in your career to date, email Vince at vince@collegeofpublicspeaking.co.uk.
Do you get confused with the myriad of training development options?
There's no shortage of room layouts or training techniques to utilise, but which is best for each training context? That's a long piece of string, isn't it? There are many variables to take into account:
The company
The training facility and its resources
How many learners can it support?
The experience of the trainer
The existing knowledge, skills and motivations of the learners
Don't worry if you're a little confused. It's normal.
Our TTT man Alan Margolis will guide you to ideal outcomes.
The first thing to establish is your purpose. What do you want to achieve and by when?
Here's what the course covers:
Day 3
How to create a safe and supportive learning environment
Rules and guidelines for participants and trainer
Using ice breakers at the start of the course to dispel any possible negative
thoughts/body language and feelings
Suggestions for specific participant feedback after any activity/learning event
Use of specific feedback language to ensure 'buy in'
Authentic listening and observation skills
Appropriate use of Energisers throughout the course
Day 4
Using the helicopter approach to team problem solving
Sabotage - insights into how saboteurs get fuel for their behaviours
The truth option - interesting method in highlighting any issues in a safe manner
The benefit of 'Attention Switchers'
Setting up the training location to ensure maximum engagement
Use of trust exercises
Pass the buck - A unique opportunity of airing one's opinion in a safe and supportive
manner
Democratic voting to ensure everybody's opinion can be aired
The Problem Bin to enable "problems" or questions to be dealt with at a more
appropriate time.
How to use Trainer's Body Language and increasing presentation and observation
skills
Day 5
Introducing 'Role Play' scenarios in a fun, interesting, non-threatening environment
Using negotiating and influencing skills
Introduction into the uses of Neuro-Linguistic Programming (NLP)
Utilising conflict management processes that result in win/win
Using Verbal Judo - a specific 5 stage process to produce agreement even in the
most awful conflict situations
How to use stress management processes in participants
Appropriate use of creative problem solving including 'guided fantasy' and 'creative
visualization' methods
Use of an exclusive IP method to deal with any 'problems' for use in participants'
companies resulting in Return on Investment
Course endings - Leaving participants in a great and positive frame of mind
Course ending and participants' validations
Why the investment in Training the Trainer is essentially free!
The role of an in-house trainer has many obstacles and opportunities. If you're not invested in your company's vision or training methods, every day is a slog.
If you're looking for opportunities to re-engineer difficulties and implement cost-cutting measures that will make your business more flexible, responsive to the market and successful, these are some of the insights that you'll take away from this course. Really understanding the business and the everyday issues it presents will put you in an incredibly influential position where you'll be respected and valued. That, I believe is the best job in the world. Everybody has time for a bit more heaven on earth.
The vast majority of employers report 'a tangible increase in their managers' capability after an ILM qualification like this!
Here's what some of our inspired students said about Alan's last 5-day course:
'I learnt more in Alan's class than in years of standalone training. This is a game-changing event.' Ursula Hoff
'I was beginning to lose my muse for training when a colleague suggested I try the Margolis Method. It was an eye-opener to experience the limitless opportunities that exist to make all forms of training interesting and engaging.' Alan Woods
'Genius - Absolute genius. Alan has a wealth of experience that he shares in a confident and confidential way. Magicians have the Magic Circle - all trainers need this.' Ely Foulks
We recognise this is a significant investment in your training career, one that your manager and finance director are praying will pay dividends. We understand the end-to-end process of the training cycle. That's why we invest in the best. The Margolis Method will present you with so many engaging training options, you'll see your profession in a different light.
So booking your place at the College of Public Speaking's next 5-day Training the Trainer is a simple decision!
After all:
• You'll have made a huge experiential leap forward in your training studies/abilities
• Small groups and large groups alike will reap the hard-earned benefits of your professionalism...
• You'll have found a new and more confident self - capable of achieving training outcomes beyond earlier expectation
...organizations like the Foreign and Commonwealth Office, GlaxoSmithKlein, Save the Children, the Home Office, the Royal College Of Paediatrics and Child Health, Serco, London Borough of Haringey, A2B Aero, Sheffield Teaching Hospitals, Landmark Aviation, Lockheed Martin, Olympus Europe and more!
The investment of just £1875 + VAT brings you a revitalised training persona.
Now it's up to you - will you join us at the College of Public Speaking's next Training the Trainer 5-day course, and become a doubly-certified professional trainer?
Just click on the booking link and secure your seat securely online.
Testimonials
'Excellent, knowledgeable, able to adapt very flexibly to delegates needs. Superb.'

Jessica Damms - Foreign and Commonwealth Office

'Very relaxed atmosphere, which made it easy to learn.'

Jocelyn Sekibo - London Borough of Haringey

'Very good approach, speed and ability to adapt the training to our needs. Very impressed.'

Alan Lovegrove - Serco

'Excellent rapport; brilliant communicator and deliverer. Great ability to be flexible and still bring back on track.'

Melanie Charles - TEN UK

'Excellent course - the learning will stay with me for the rest of my career!'

Jane Russell - Northumberland CC

'Amazing, thoroughly enjoyed course and feel it has made a huge difference to my training abilities. - will be recommending this to my colleagues, as I had it recommended to me.'

Dr Ingrid Jolley - Sheffield Teaching Hospitals

'The best training of trainer course I have ever attended. Thank you!'

Debbie Armstrong - Viridian Housing

Excellent - very engaging, attentive to delegates' needs. Good pace. Plenty of real examples'

Jim Parker - Ukas

'I now feel confident about designing and delivering a workshop'

Grace Graham - Sebright Children's Centre

'Fantastic, left me feeling motivated and confident! I've never felt so positive about carrying out my job.'

Corinne Moore - Tees Valley Unlimited

'Great course - has prompted me to review how I run training sessions - confidence improved in presenting.'

Sarah Quinlan - Royal College of Paediatrics

'Approach and support was excellent. Very clear throughout.'

Jeanette Judge - Home Office

'Fantastic!! Will be recommending to all that will listen.'

Chris Harvey - Landmark Aviation
Confidentiality
We offer a totally confidential service and encourage liaising with clients before they consider booking courses. We recognise the significant investment in your time and resources. We accept your tight timescales and eagerness to take the next steps. Our payment options are practical and simple. For your security, we hold no client payment details online. With ever sophisticated cybercrime, your safety and security are paramount.
Our Guarantee
The College of Public Speaking is the UK's leading specialist public speaking organisation. All of our trainers are not just qualified in their field, but passionate specialists who live and thrive in that sphere. Our guarantee is that you'll enjoy a great learning experience at our course centre in Kings Cross. The Kings Cross venue is a 5-minute walk from the London Underground, British Rail, and the Eurostar terminals. Accessibility is key - so come and join us within the next month. Check our Offers page to see what's hot this month.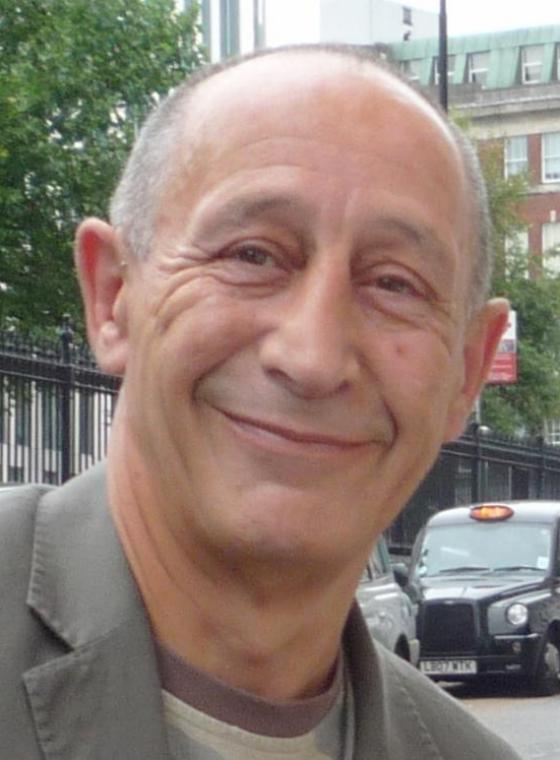 Alan Margolis
Course Tutor
Alan Margolis - HR Development training consultant with over 20 years of experience
Alan Margolis is on The Register of Learning Providers No:10024264 and is a Human Resource Development training consultant with over 20 years of experience using a variety of Groupwork skills, Counselling, Personal and Professional Development skills, Experiential Learning and Neuro-Linguistic Programming. He facilitates learning events in areas such as Conflict Resolution, Interpersonal Skills, Presenting with Impact, Management Communication, Return on Your Investment, Stress Management, Influencing & Negotiating Skills, Creative Problem Solving, Training the Trainers, Morale Building, Customer Delight and Teambuilding for organisations such as Investors in People, The British Standards Institution, The United Nations, Government Departments, Arts Organisations and various national and international companies. He believes in empowering and motivating people so, they are able to release their full personal and professional potential.
Alan moved into training and development by establishing his own training consultancy Hampstead Training Consultants 20 years ago after an extensive management career, including some years as Managing Director, with a variety of companies in fields such as marketing, manufacturing and retail. He was one of the first people to produce and market animal and environmentally friendly cosmetics. Alan also designed and produced a product endorsed by 'The Beatles' which was sold in over 100 countries.
"An exceptionally useful day's training, delivered in a positive and personanable manner, very enjoyable and significant food for thought. Thank You."

"The anxiety is gone - now that I understand it. Not only can I make a presentation - I feel I have so much to give now. It's quite a transformation."

"Since attending the course, I feel like a completely different person; more confident, relaxed and easy going. I gave a speech at work last week and it went so so well."