5 Day Discovery Public Speaking
This 5 day intensive public speaking discovery course is for ambitious executives looking to make a greater impact in the world of public speaking and communication.

Do you want to become an excellent communicator?

Do you want to take that next step in effective leadership?

Do you want to create a competitive edge?

Do you want to make people work with you, your team and your company?

Do you want your work to become more meaningful?
Then you're in the right place - because this programme will change the way you communicate in 5 days. We have a maximum of 9 students so please book early.
Course Summary
Testimonials
Confidentiality
Our Guarantee
Course Summary
And now its your turn to make a quantum leap on your own personal voyage of public speaking discovery...
Here's just a small sampling of what you'll discover and experience when you join College of Public Speaking founder director and international speaker Vince Stevenson on our next 5 Day Discovery Programme:
Day 1 - An Introduction to Public Speaking
Excellent communication is built on solid foundations - and on Day 1 we will deconstruct public speaking and then build it up from new foundations.
You'll feel new confidence not only when you're called on to speak on stage, but generally with better quality and more effective interactions at work, at home and play.
Throughout this day and the entire week, you'll make many speeches - both prepared and impromptu - videoed by your trainer, College of Public Speaking founder Director and international speaker Vince Stevenson with constructive, confidence-building feedback provided.
You'll discover:
The three universal laws of public speaking
The psychology of public speaking - both for the speaker and from the audience's perspective
How to determine your purpose - what do you want to achieve when speaking, and how can you get it?
Getting off on the right foot: ice-breaker and introduction exercises
The winning equation for every speaker is wrapped up in words, vocal variety and body language
How to use stories, anecdotes and case studies - and why they always outscore numbers, statistics and pie charts
How to use metaphor and rhetoric - and why they work so effectively
Day 2 - Mind, Body and Spirit
Impactful public speaking and communication is about so much more than the words..
It's a combination of what is happening in our mind, body and spirit and if any of these components aren't right, you won't perform at your best.
You'll discover:
Proven speech structures you can use immediately in many situations
How to start any speech with impact
Posture, breathing and relaxation - an extensive selection of exercises to support your breath
How the mind and body are totally integrated - and the overall impact of that
How to avoid losing control - understanding and conquering physical manifestations of anxiety
How and when to use enthusiasm, conviction, belief, sincerity and passion
Speech analysis - discover the 'tricks' the best-of-the-best business and political speakers employ to get results
Day 3 - Debating Skills
Are you confident you can secure the outcome you want in a debate with a difficult or persuasive colleague or client?
You will be after Day 3.
You'll discover:
Introduction to debating essentials
How great speakers and people of influence like use the art and power of rhetoric
How to use words, logic, structure and delivery to take any listener on a journey of persuasion
The preplanned debating techniques politicians use to deflect the attacks of their opponents and negotiate better deals
We will also stage debates where we'll explore and unpack the effectiveness of each contribution
Day 4 - Irresistible Influence and Transformational Speaking for Leadership
You too can be charismatic. You do not need a million dollar smile and a Harvard education. Research studies show that anybody can be charismatic.
Charisma can be learnt by applying various techniques at the appropriate time. Those techniques will in time become part and parcel of who you are.
All you need to know is how to embody them - and that's what you'll discover on Day 4.
You'll discover:
A formula for persuasion that applies every time and to each context - including 'hard' and 'soft' tactics for persuasion and when to use each type
'Lost secrets' of the old masters who framed the parameters of persuasion in the first crucibles of civilization
Why some people just seem to make it look so easy while others struggle to gather momentum (hint: it comes down to technique and applying it appropriately at the right time)
How to deliver a keynote speech
How to run your own professional speaking event - and manage value-packed speaking events in the workplace which elevate your status as a speaking professional
How to use notes effectively
How to effectively introduce a speaker and deliver a vote of thanks
Day 5 - Presentation Day
Day 5 is dedicated to planning, preparation, practice and delivery of you very own pre-prepared speech.
You'll pull together everything you've learned during the week.
Throughout the day, we'll be working on the delivery of speech projects where greater time for planning is allocated.
You'll discover:
How to create and deliver a (short) TED talk
How to manage and win over large audiences
How to handle a hostile audience - how to connect with the audience and invite them to be more receptive to your proposition.
How to use advanced presentation techniques and tools - text notes, PowerPoint, Mindmaps, bullet points, index cards, memory techniques...
How to handle Q&A sessions with ease
All your speeches videoed and reviewed
More impromptu speaking followed by an end of course dinner...
Hear what some of our inspired students said about the course below:
Testimonials
'Dear Vince, this course was 'speaking nirvana' for me. I have to present a lot at work and I often get myself so flustered in the preparation process, worrying about the content, tone and timing. I realise I am overthinking things and I should be focusing on your simple philosophy for audience engagement. I appreciate the support too of all of the other delegates whose insightful contributions make me feel so much more confident now. I needed this course 10 years ago really. It would have saved me a ton of anxiety and many lost opportunities.'

Rachel

'Hi Vince, it was great. In fact for me, probably life-enhancing. It was much more than a public speaking course - your discussions on psychology and philosophy were an unexpected treat. I am now really looking forward to my first lecture! I have had such a phobia about public speaking, formal and informal, that I think I now have the confidence to face my new world and anything goes. I found the team were so supportive and such a refreshing change for me coming from a narrow technical background. So thanks again.'

Rick

'Thanks for an excellent course, Vince. It really has me thinking about my possibilities. I have very limited opportunities to practice on a regular basis so as the videos show, I am now a well-grounded speaker - that gives me great confidence going forward.'

Frank

'Dear Vince, I thoroughly enjoyed the course and found the whole experience intense and extremely beneficial. Much more than I imagined.'

Janine
Confidentiality
We offer a totally confidential service and encourage liaising with clients before they consider booking courses. We recognise the significant investment in your time and resources. We accept your tight timescales and eagerness to take the next steps. Our payment options are practical and simple. For your security, we hold no client payment details online. With ever sophisticated cybercrime, your safety and security are paramount.
Our Guarantee
We offer a totally confidential service and encourage liaising with clients before they consider booking courses. We recognise the significant investment in your time and resources. We accept your tight timescales and eagerness to take the next steps. Our payment options are practical and simple. For your security, we hold no client payment details online. With ever sophisticated cybercrime, your safety and security are paramount.
All Course Dates
See below for a full list of available course dates. If you're ready to begin furthering your career, and uncover your hidden strengths, then sign up for one of the available slots.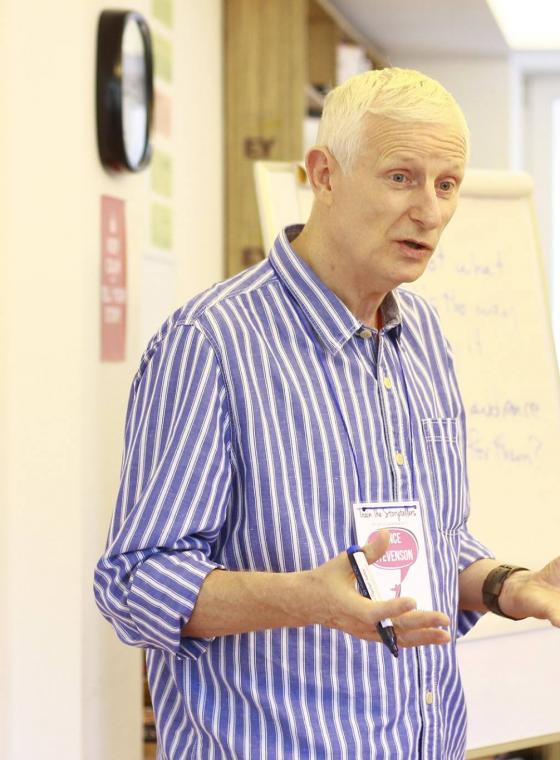 Vince Stevenson
Course Tutor
Vince Stevenson (The Fear Doctor) - Speaker - Trainer - Author
Vince is a well-known speaker/trainer and has won several awards for leadership, education and development. He is a founder of the College of Public Speaking London and works as Education Director managing all aspects of course delivery and content. Vince is also one of the UK's leading speech coaches. He has worked with leaders across the spectrum of politics, industry, finance as well as featuring primarily in a humanitarian role.
Vince is an avid learner and in recent years has accomplished many certificates in Learning and Communication Science with the University of California, San Diego, the University of Amsterdam, and Instructional Design with the Institute of Adult Learning, Singapore.
"An exceptionally useful day's training, delivered in a positive and personanable manner, very enjoyable and significant food for thought. Thank You."

"The anxiety is gone - now that I understand it. Not only can I make a presentation - I feel I have so much to give now. It's quite a transformation."

"Since attending the course, I feel like a completely different person; more confident, relaxed and easy going. I gave a speech at work last week and it went so so well."