5 Days Discovery Public Speaking
This 5 day intensive public speaking discovery course is for ambitious executives looking to make a greater impact in their careers. Find out more here.
Do you want to become an excellent communicator?

Do you want to take that next step in effective leadership?

Do you want to create a competitive edge?

Do you want to make people work with you, your team and your company?

Do you want your work to become more meaningful?
Then you're in the right place - because this programme will change the way you communicate in 5 days. We have a maximum of 9 students so please book early.
Maps, local hotels and amenities - all the local research in one document for you
Course Summary
Testimonials
Confidentiality
Our Guarantee
Course Summary
The College of Public Speaking promotes inclusivity, diversity, and equality.
And now it's your turn to make a quantum leap in a voyage of public speaking discovery...
Here's just a small sampling of what you'll discover and experience when you join College of Public Speaking founder director and international speaker Vince Stevenson on our next 5 Days Discovery Course:
Day 1 - An Introduction to Public Speaking
Excellent communication is built on solid foundations - and on Day 1 we will deconstruct public speaking and then build it up from scratch.
You'll feel new confidence not only when you're called on to speak, but generally with better quality and more effective interactions at work, at home, and socially.
Throughout this day and the entire week, you'll make many speeches - both prepared and impromptu - videoed by your trainer who offers constructive, confidence-building feedback.
You'll discover:
the three universal laws of public speaking
the psychology of public speaking - both for the speaker and from the audience's perspective
how to determine your purpose - what do you want to achieve when speaking, and how you can get it
starting on the right foot: ice-breaker and introduction exercises
the winning equation for every speaker is wrapped up in words, vocal variety, and body language
how to use stories, anecdotes, and case studies - and why they always outscore numbers, statistics, and pie charts
how to use metaphor and rhetoric - and why they work so effectively
Day 2 - Mind, Body, and Spirit
Impactful public speaking and communication are about so much more than words.
It's a combination of what is happening in our mind, body, and spirit and if any of these components aren't balanced, you won't perform at your best.
You'll discover:
proven speech structures you can use immediately in many situations
how to start any speech with impact
posture, breathing, and relaxation - an extensive selection of exercises to support your breath
how the mind and body are totally integrated - and the overall impact of that
how to avoid losing control - understanding and conquering physical manifestations of anxiety
how and when to use enthusiasm, conviction, belief, sincerity, and passion
speech analysis - discover the 'tricks' the best-of-the-best business and political speakers employ to get results
Day 3 - Debating Skills
Are you confident you can secure the outcome you want in a debate with a difficult or persuasive colleague or client?
You will be better equipped after Day 3.
You'll discover:
introduction to debating essentials
how great speakers and people of influence like using the art and power of rhetoric
how to use words, logic, structure, and delivery to take any listener on a journey of persuasion
the preplanned debating techniques politicians use to deflect the attacks of their opponents and negotiate better deals
we will also stage debates where we'll explore and unpack the effectiveness of each contribution
Day 4 - Irresistible Influence and Transformational Speaking for Leadership
You too can be charismatic. You do not need a million-dollar smile and a Harvard education. Research studies show that anybody can be charismatic.
Charisma can be learned by applying various techniques at the appropriate time. Those techniques will in time become behaviours and part and parcel of who you are.
All you need to know is how to embody them - and that's what you'll discover on Day 4.
You'll discover:
a formula for persuasion that applies every time and to each context - including 'hard' and 'soft' tactics for persuasion and when to use each type
lost secrets of the old masters who framed the parameters of persuasion in the first crucibles of democracy
why do some people just seem to make it look so easy while others struggle to gather momentum (hint: it comes down to technique and applying it appropriately at the right time)
how to deliver a keynote speech
how to run your own professional speaking event - and manage value-packed speaking events in the workplace which elevate your status as a speaking professional
how to use notes effectively
how to effectively introduce a speaker and deliver a vote of thanks
Day 5 - Graduation Day
Day 5 is dedicated to planning, preparation, practice, and delivery of your very own pre-prepared speech.
You'll pull together everything you've learned during the week.
Throughout the day, we'll be working on the delivery of speech projects where greater time for planning is allocated.
You'll discover:
how to create and deliver a (short) TED talk
how to manage and win over large audiences
how to handle a hostile audience - how to connect with the audience and invite them to be more receptive to your proposition.
how to use advanced presentation techniques and tools - text notes, PowerPoint, Mindmaps, bullet points, index cards, memory techniques...
how to handle Q&A sessions with ease
we video your speeches and review your progress
more impromptu speaking followed by an end-of-course lunch...
Final session: How to become your company's spokesperson
Imagine that a negative situation has hit your company or your industry. Reputation is everything in business. The press wants a story and somebody who can respond to the dilemma.
No matter what the incident, there is a formula that works to make you, your company or your industry come out positively and protect your reputation.
Whatever your background or situation, you can save the day for your colleagues, clients and customers.
If you're looking to excel in your profession, this one tool/exercise/experience can help influential colleagues see your professionalism under pressure.
Why your investment in the 5-Days Discovery Course is essentially free...
Let's cut to the chase and be honest with one another right now...
You know, and I know, that the juicy contract...
...the top job... the most desirable person does not go to the 'best' candidate...
It goes to the best, most confident communicator, doesn't it?
Want the truth about the world we live in?
The best communicator wins every time.
Knowing this, does it seem over-the-top to imagine that the new skills... the new level of confidence, power, and poise you'll walk away with for the rest of your life...
The investment in attending our 5-Day Discovery Public Speaking Course is of exceptional value.
Your investment in this immersive, not-to-be-forgotten experience is so small compared to the benefits.
It's worth every penny to enjoy far greater influence, confidence and impact and change the way you communicate forever over five exciting days in one of the world's greatest cities?
So, booking your place at the College of Public Speaking's next 5-Day Discovery Public Speaking Course is a career-enhancing activity.
After all - you've seen how the course is a unique opportunity to super-charge your confidence and gain new poise and grace as a speaker.
-----------------------------------------------
The 5-Days Discovery course attracts students from Europe, Africa, the Far, and the Middle East, North and South America, Australia, and New Zealand.
Every world student is welcomed, valued, and appreciated for their classroom contributions.
Here's a testimonial from Erin, a course member in September 2021.
-----------------------------------------------
What a week! I booked the course to learn a few tricks and build my confidence in public speaking. I have not only achieved that, but I left feeling spiritually elevated.
Vince, you have not only created a remarkable course and attracted wonderful colleagues, but most importantly, it was a supportive, safe and inspirational environment.
Banu, your positivity is infectious - you always have something uplifting to say. Amjad, thanks for digging deeper.
Femi and Ada - it was a great privilege to be in the company of such amazingly talented women.
Femi, even though we live on different continents, we have the same heroes, and girl do you radiate warmth?
Ada, what a fascinating life - and what a presence! - you have a truly majestic elegance.
John and Hans - it was a pleasure to meet you. You are both natural leaders.
John, you have a gift for storytelling - I loved listening to you.
Hans, what a great mind, but most importantly, you're full of heart and passion.
Ahmad, Peter, and Handre - I really enjoyed your company.
Ahmad, it was wonderful seeing your more vulnerable - caring dad side.
Peter - you are a true gentleman. You were asking about the British sense of humour, but I really loved yours. It's both subtle and powerful.
Handre - what a transformation - from someone who first held back to when you came alive and showed your passionate side in your scuba diving speech.
Thank you, everyone, and I hope to see you all again. Drop me a line if you are in London, and let's meet up.
Love Katerina
----------------------------------------------------------------------------------------------
Hi, my name is Jim and I live in Singapore. I've attended the course twice since 2017. I have a high-profile job in the FarEast and I present almost every week to potential investors. You'll love this course because of its ethos, atmosphere and setting. There's never a bad time to be in London, and there's never enough time to explore its opportunities. Although Vince will give you some suggestions.
----------------------------------------------------------------------------------------------
Wednesday, June 22nd, 2022, and we ran this summer's first 5-day Discovery Course in King's Cross, London's most accessible training venue on Pentonville Road. It was a truly international event with students from Brazil, Iraq, Australia, China, and the Czech Republic. Post-class we dined at The Lighterman in Coal Drops Yard nearby. A wonderful experience to socialise after three intensive days. If you're looking for a breakthrough course to enhance your career, this event will introduce you to international colleagues and create a bond and empathy with people from other cultures. This course has all the parameters for success. Give us a call and make it happen.
----------------------------------------------------------------------------------------------
You've seen how, after five days, you'll 'graduate' from the program with a full 'toolkit' thanks to the mix of theory, observation, classroom discussion, and extensive speech practice underpinned by Vince's unique methodology for feedback which works with each student on their individual requirements, tapping into their personality, creativity, and authenticity.
And you've seen how the small investment of the course fee pales into insignificance compared to the gains in your professional and personal life you can expect from attending.
Now it's up to you - will you join us at the College of Public Speaking's next 5-Day Discovery Course and start making inroads into a bright and more confident career?
Just click on the booking button above to request your place securely online now...
...or if you have any queries, please contact Tracy by emailing tracy@collegeofpublicspeaking.co.uk
But please be quick - this is a small group experience with limited spaces available...
The College of Public Speaking promotes inclusivity, diversity, and equality.
Course Summary:
Course Name: 5-Days Discovery Public Speaking Course.
Certification: CIMA (Chartered Institute of Management Accountants).
Maximum group size: 8
Venue: Voluntary Action Islington (VAI) Part of Islington Council. Pentonville Road, King's Cross. One of London's most accessible training venues is close to the station.
The East Coast and West Coast train lines and all-tube services excluding the Central Line pass through King's Cross.
For international students, this venue is ideal for Heathrow, Gatwick, Luton, and Stansted airports, as well as for Eurostar services to/from Lille, Paris, Brussels, and Amsterdam.
Class hours: 09:30 to 17:00 (one hour for lunch)
Trainer: Vince Stevenson, (speaker, trainer, author, broadcaster, businessman), one of the UK's most experienced.
Materials: A selection of course materials for various activities.
Offers: 4 students for the price of 3. A means of extending your training budget by 25%.
Who should attend? This course has become world-famous in the last ten years and has attracted multiple students from every continent.
Those students are high-level executives, lawyers, politicians, scientists, doctors, and many others from a broad range of challenging professions.
The thing they have in common is their desire to set the highest standards in communication.
If you're on the path to becoming a great communicator, this course's materials, activities, and experience will accelerate your development. If you're ready to refine your skills, this 5-Day class is for you.
Onsite Courses: We offer this course in London and have plans to bring it to Barcelona in the coming years.
Why you should sign up now: This is one of our most popular courses. Places are limited and highly valued.
Our sessions are unique experiences, and we'd like you to make a significant contribution to what is a career-enhancing event.
Signing up has never been easier than with our Stripe shopping cart system. Any issues, our admin staff will manage them for you. Their contact details are at the top of the page.
Testimonials
'Dear Vince, this course was 'speaking nirvana' for me. I have to present a lot at work and I often get myself so flustered in the preparation process, worrying about the content, tone and timing. I realise I am overthinking things and I should be focusing on your simple philosophy for audience engagement. I appreciate the support too of all of the other delegates whose insightful contributions make me feel so much more confident now. I needed this course 10 years ago really. It would have saved me a ton of anxiety and many lost opportunities.'

Rachel

'Hi Vince, it was great. In fact for me, probably life-enhancing. It was much more than a public speaking course - your discussions on psychology and philosophy were an unexpected treat. I am now really looking forward to my first lecture! I have had such a phobia about public speaking, formal and informal, that I think I now have the confidence to face my new world and anything goes. I found the team were so supportive and such a refreshing change for me coming from a narrow technical background. So thanks again.'

Rick

'Thanks for an excellent course, Vince. It really has me thinking about my possibilities. I have very limited opportunities to practice on a regular basis so as the videos show, I am now a well-grounded speaker - that gives me great confidence going forward.'

Frank

'Dear Vince, I thoroughly enjoyed the course and found the whole experience intense and extremely beneficial. Much more than I imagined.'

Janine

This was a truly inspiring course. The atmosphere and the framing of the course was superb. Such fun to be in a supportive environment with two such experienced trainers. Vince and Banu are an unlikely pair, but they really know how to get the best out of their students.

Mohammed

I really had a lot of issues with speaking coming into this course and I've been concerned for a long time about my progress. I loved the energy in the classroom as well as the humour and exacting exercises. The five days flew by - I wanted it to continue into the weekend. A great course from CoPS London.

Simon

Really had a great time on the course because of my fellow students and the excellence of the teaching staff. Every moment, interaction and exercise was brilliantly planned to explore a speaking scenario. Love the creativity and interactive exercises. We were engaged every moment of the 5 days. It was clever how they built in the social opportunities too. That really helped the group to bond.

Alison
Confidentiality
We offer a totally confidential service and encourage liaising with clients before they consider booking courses. We recognise the significant investment in your time and resources. We accept your tight timescales and eagerness to take the next steps. Our payment options are practical and simple. For your security, we hold no client payment details online. With ever sophisticated cybercrime, your safety and security are paramount.
Our Guarantee
The College of Public Speaking is the UK's leading specialist public speaking organisation. All of our trainers are not just qualified in their field, but passionate specialists who live and thrive in that sphere. Our guarantee is that you'll enjoy a great learning experience at our course centre in Kings Cross. The Kings Cross venue is a 5-minute walk from the London Underground, British Rail, and the Eurostar terminals. Accessibility is key - so come and join us within the next month. Check our Offers page to see what's hot this month.
All Course Dates
See below for a full list of available course dates. If you're ready to begin furthering your career, and uncover your hidden strengths, then sign up for one of the available slots.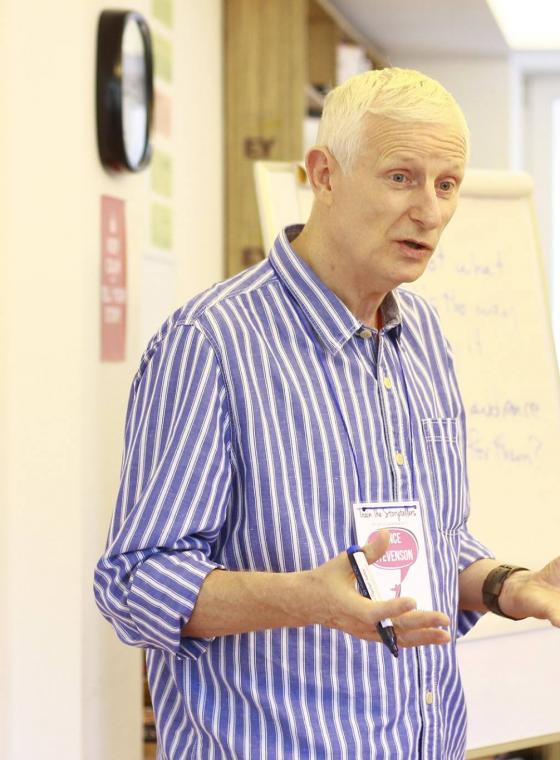 Vince Stevenson
Course Tutor
Vince Stevenson - (he/him) The Fear Doctor - Speaker - Trainer - Author - Broadcaster
Vince is a well-known speaker/trainer and has won several awards for leadership, education and development. He is a founder of the College of Public Speaking London and works as Education Director managing all aspects of course delivery and content. Vince is also one of the UK's leading speech coaches. He has worked with leaders across the spectrum of politics, industry, finance as well as featuring primarily in a humanitarian role.
Vince is an avid learner and in recent years has accomplished many certificates in Learning and Communication Science with the University of California, San Diego, the University of Amsterdam, and Instructional Design with the Institute of Adult Learning, Singapore.
"An exceptionally useful day's training, delivered in a positive and personanable manner, very enjoyable and significant food for thought. Thank You."

"The anxiety is gone - now that I understand it. Not only can I make a presentation - I feel I have so much to give now. It's quite a transformation."

"Since attending the course, I feel like a completely different person; more confident, relaxed and easy going. I gave a speech at work last week and it went so so well."