Executive Public Speaking Coaching UK Courses
by College of Public Speaking
This executive public speaking coaching UK course provides access to one of the UK's leading public speaking experts, Vince Stevenson. Trust the best.
Mutually Convenient
£1840 + VAT
This course can be arranged for a mutually convenient time either in-house or at a central London venue. Once you've told us of your interest in the course, we will contact you to arrange the date/time/venue details.
The role of an executive is complex. You need to keep an eye on the business horizon and on the technological horizon. You need to manage your department and your staffs' expectations. You are a role model and you set and maintain the standards. Everybody is looking to you. Top leaders have demonstrative skills.
Our Executive Presentation Course offers a flexible development package. It can be an intensive one day workshop working 1-2-1 with one with founder Vince Stevenson. Alternatively, it can be 2 x 1/2 day sessions with our award winning trainers, all of whom have boardroom experience with an eclectic mix of CEOs, Directors and Senior Managers across a broad spectrum of business disciplines.
Maps, local hotels and amenities - all the local research in one document for you
Mutually Convenient
£1840 + VAT
Course Summary
Testimonials
Confidentiality
Our Guarantee
Course Summary
Executive Public Speaking Coaching UK Courses
The role of an executive is complex. You need to keep an eye on the business and technological horizons. You need to manage your department and your staff's expectations. You are a role model, and you set and maintain high standards. Everybody is looking at you. Top leaders must have demonstrative skills. That's why Executive Public Speaking Coaching is essential to give you that edge at work.
Your communication says a lot about your style. Your ambitions and those of your department are transmitted by your communication style. What message are you sending? Is there anything negative that your followers are picking up on? What we say and how we say it are key; how you make people feel is even more important. Are they upbeat, optimistic, and progressive in thought and outlook? No? Is your performance stifling their creativity? It's never too late to change course.
Our Executive Public Speaking Coaching Course offers a flexible development package. It can be an intensive one-day workshop working 1-2-1 with one with founder Vince Stevenson. Alternatively, it can be 2 x 1/2 day sessions with our award-winning trainers, who have boardroom experience with CEOs, Directors, and Senior Managers across a broad spectrum of business disciplines.
The College of Public Speaking turns your knowledge, experience, and expertise into first-class presentation outcomes.
Vince Stevenson has worked across sectors for many years with many high-profile clients. He's run executive public speaking programs for construction companies in Glasgow and oil companies in the Middle East. His profile can be found on Vince Stevenson. Our development methodology is tried and trusted throughout the speaking world and has helped millions of people for over 80 years. We also offer competency-based interview skills training, media skills training, executive in-tray exercises, and other bespoke executive learning opportunities (subject to the amount of preparatory work and an agreed fee).
Professional development in the field of executive speech coaching is becoming the norm. The subsequent trend of leading from the front and delivering compelling speeches and presentations to colleagues is now an everyday occurrence.
At just £1840 + VAT (full day), this package offers excellent value when training budgets are constantly under review.
We will be pleased to attend your home or office (we also hire quality venues in Victoria and King's Cross if you prefer total confidentiality) and deliver a session that includes input on the following aspects:
A review of current speaking skills.
Knowing your audience and their expectations.
Select the most appropriate speech structure to deliver positive outcomes.
Concentrate on your key messages and develop content that underpins them.
Practice and develop improved speaking skills regarding vocal techniques and body language.
Develop techniques to speak with power and persuasion.
Creative use of appropriate humour and speaking dynamism.
Research the venue - know the layout and format of the speaking event.
Visualization techniques that focus on a successful speaking outcome.
Expert advice on PowerPoint where required.
Video playback and analysis will form the basis for speaking development.
In speaking in public, you must develop your ideas, themes, and key messages (with our help, of course). It's not what you say; it's the way that you say it - and that means your words, your tonal variety allied to your body language.
If you do not deliver your message with passion or at least enthusiasm, who will listen, and why should they?
Executive Public Speaking Coaching UK Course Case Study
Sarah has never spoken in public before. Although she has a team who can help research and create the PowerPoint slides, Sarah is inexperienced in spoken delivery. She calls the HR director and requests support. The HR director contacts the College of Public Speaking and a meeting is arranged at short notice. Sarah works in the City for a large multinational bank. One day, she receives an email from her manager in New York telling her that she is to deliver a keynote speech at an international seminar in Hamburg in two weeks.
At the preliminary meeting, we must ascertain the nature of the speaking engagement; the date, the venue, audience size, and profile, duration of speech, make-up of the day's program of events, resource requirements etc.
The key duty of any executive public speaker is to speak with authority and impact. One of our professional trainers leads Sarah through the minefield of effective communication, assisting with structure, body language, and effective use of voice, which introduces pace, pitch, pause, and projection. Sarah is given advice on how to handle nerves, how to channel adrenaline into vocal performance, how to utilize powerful vocabulary as well as the effective use of humour. The key ingredient to success in any field is preparation and planning, and our professional speaker will request that Sarah practices appropriately before their next scheduled meeting.
Sarah must decide how many follow-up meetings are required before the flight to Hamburg. During all events, the professional trainer will provide objective and realistic feedback on how well Sarah is developing in a friendly and supportive format. All of the sessions include opportunities for video feedback.
Sarah did well in her Hamburg assignment, so she was invited to deliver the same presentation in Geneva two months later. A year later, Sarah is hooked on public speaking and takes every opportunity possible to deliver her company's key messages to an international audience.
Our professional public speaking trainers and coaches have confidentiality clauses built into their contracts, so whatever matters arise during a session, it goes no further than the classroom door.
If you have always wanted to deliver that killer presentation but have never known where to begin - we can help you.
Your facilitator for this course is Vince Stevenson, founder and Education Director of the College of Public Speaking and a staunch supporter of public speaking across the Public, Private and Third Sectors. Vince has worked in the City for many years and in some of the largest companies nationally and internationally. In his speaking work, he has worked with bankers, lawyers, accountants, footballers, TV presenters, politicians (and many others).
Don't delay, our Executive Public Speaking Coaching UK Courses will change the trajectory of your career. Call us today.
Please contact Vince Stevenson on 0330 043 2677 or by emailing vince@collegeofpublicspeaking.co.uk
Confidentiality
We offer a totally confidential service and encourage liaising with clients before they consider booking courses. We recognise the significant investment in your time and resources. We accept your tight timescales and eagerness to take the next steps. Our payment options are practical and simple. For your security, we hold no client payment details online. With ever sophisticated cybercrime, your safety and security are paramount.
Our Guarantee
The College of Public Speaking is the UK's leading specialist public speaking organisation. All of our trainers are not just qualified in their field, but passionate specialists who live and thrive in that sphere. Our guarantee is that you'll enjoy a great learning experience at our course centre in King's Cross. The venue is a 10-minute walk from the London Underground, British Rail, and the Eurostar terminals. Accessibility is key - so come and join us within the next month. Check our Offers page to see what's hot this month.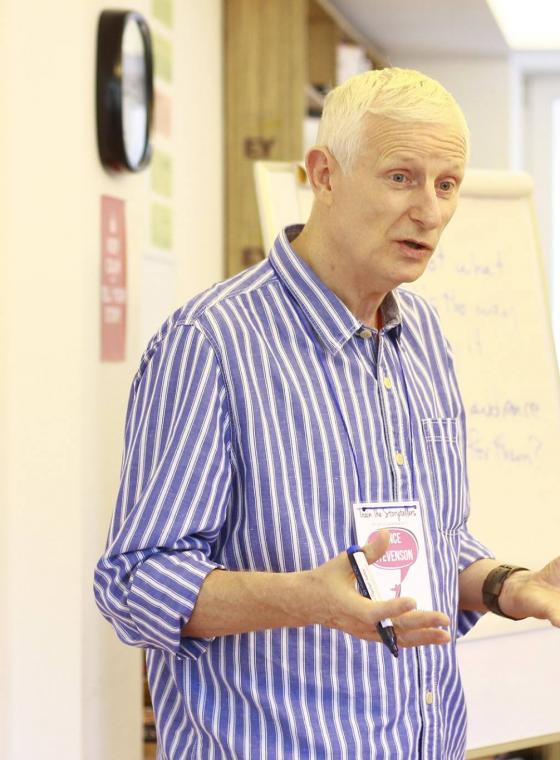 Vince Stevenson - Public Speaking Courses
Course Tutor
Vince Stevenson - (he/him) The Fear Doctor - Trainer of Trainers and Public Speaking Course devotee
Vince is a well-known public speaker course trainer and has won several awards for leadership, education, and development. He is a founder of the College of Public Speaking London UK and works as Education Director managing all aspects of public speaker course delivery and content. Vince is also one of the UK's leaders in public speaking coaching. He has worked with leaders across the spectrum of politics, industry, and finance and in numerous humanitarian roles.
Vince is an avid learner and has recently accomplished many certificates in Learning and Communication Science with the University of California, San Diego, the University of Amsterdam, and Instructional Design with the Institute of Adult Learning, Singapore. As part of Vince's devotion to lifelong learning, he's currently working on a Higher Educational Training Course at Harvard.
"An exceptionally useful day's training, delivered in a positive and personanable manner, very enjoyable and significant food for thought. Thank You."

"The anxiety is gone - now that I understand it. Not only can I make a presentation - I feel I have so much to give now. It's quite a transformation."

"Since attending the course, I feel like a completely different person; more confident, relaxed and easy going. I gave a speech at work last week and it went so so well."