Team Building With Communication
by College of Public Speaking
Our 2-day team building with communication course is a masterpiece of communicative collaboration with a high-tech speaking finale. £3500 + VAT
Our 2-day team building with communication course is a masterpiece of collaboration with a high-tech speaking finale. This in-house event for 6-9 students is a real game-changer for teams. Please use the contact button, and we'll start the process of organizing your team building course. The dates advertised on the website are available, but we're happy to work around your schedule.
"Individually, we are one drop. Together, we are an ocean." Ryunosuke Satoro
What's the problem?
What you resist persists. Poor communication stifles organizations.
The professional world seeks better communicators.

Academic knowledge and enthusiasm are valuable, but proficient communication steals the show.

Research indicates a reluctance to speak up in meetings with clients, colleagues, and stakeholders.

Younger team members might have little experience in teams working on complex projects.

An inability to articulate complicated ideas leads to paralysis, delays, and dwindling productivity.

Our team building course creates demonstrable workplace skills. If you'd like further details, please click the contact button on the right-hand side, and we'll call you back.
Course Summary
Testimonials
Confidentiality
Our Guarantee
Course Summary
The issues above lead to disengagement and disillusion.
You must empower team members to contribute and develop their ideas to improve motivation.
They'll be more engaged and invested by positively impacting and influencing complex issues.
Do you have any colleagues who are not committed to their work?
With the proper training and direction, they'll improve their skills and create that all-important change.
Benefits for the employer:
Improved teamwork and relationships.
More timely and effective decision-making.
Greater participation, creativity, and idea sharing.
Clearer business communication and client satisfaction.
A happier and more engaged workforce leads to improved productivity.
This team building course offers participants a CIMA (Chartered Institute of Management Accountants) certificate.
Due to operational demands, we offer this course as an in-house event
There's no need for expensive conference centres, hotels, or travel. (Unless you prefer the retreat model).
This course sits comfortably inside a medium-sized meeting room at work.
We'll provide the contexts and the materials. It's fun, it's interactive, and there's no hiding place.
Throughout the two days, your colleagues will break into pairs and small groups and then collaborate and interact as a big group at the reporting stage.
The fee for this 2-day course is circa £3500 + VAT.
This course is ideal for 6 to 10 students. Please Contact us
Our solution: Team Building with Communication
How do we define Team Building mean at the College of Public Speaking?
"Words can be like X-Rays if you use them properly, they'll go through anything." Aldous Huxley
The principles of communication never change. What changes is the context. We have conversations all day, every day. Whether you're talking to your boss, partner, parents, colleague, or client, each conversation should have a purpose and an ideal outcome. How many of your communications have a purpose, and how many ideal outcomes do they deliver? Many people find office life frustrating. Too much time is lost in meetings and ineffective communication. How deeply do you and your colleagues understand the principles of communication?
Change your frustration into achievement by attending this insightful course.
In this team building course, delegates learn to:
Create their brand and gain clarity on the role they play in the organization.
Articulate their message with confidence, purpose, and passion.
Speak their mind concisely and with conviction.
Interact and engage in the workplace more effectively.
Manage and participate in meetings in a constructive manner.
How to run a team/departmental/company Livestream podcast.
How to plan, communicate and resource a company event at short notice.
Day 1
An introduction to foundational communication - busting its myths, understanding what it is and isn't.
Here you're introduced to the principles of communication. Principles that never change. What changes is the context, and, more importantly, how do your colleagues and clients perceive you? The way you speak, tone of voice, and body language are powerful. Understanding your style will give you more significant insights into the subtle and not-so-subtle communication styles of others.
A discussion on personality profiles explains why industry professionals can read and perceive the same business brief differently. Are you ever frustrated with a colleague who doesn't accept the point of your argument?
The climax of Day 1 is when the group elects a leader, breaks into subteams, and, following analytical discussion, proposes a solution to a small group of industry experts. You've seen it on the Apprentice. It's great fun and highlights structure, content, and delivery. All spoken aspects of delivery are recorded for further analysis. The key to improvement is the feedback your trainer delivers objectively, constructively, and supportively.
Day 2
Meeting etiquette - the requirements of being effective at chairing and participating in discussions.
Another collaborative exercise where each student completes three speeches, each with a different purpose and delivery requirements.
This is a fun exercise where every student learns from the brief and the observation of their colleagues—building into teams of three and taking on three speaking roles. It's fast, furious, and fun. It's designed to stretch students and see how they react to a demanding task.
Please don't leave it until you're a middle-aged middle manager. Your communication skills today are what will propel your career enhancement. Check Warren Buffett's views on developing his public speaking/communication skills.
Communication is a hot topic – it's not like you can ignore it. It's a great skill to master early. It will enhance your professional options once you master the foundational aspects.
Through speech-making, interactive exercises, and role-play, we explore the minefield of business communication in this unique team building course.
The final project requires intense project management collaboration, timing, cameras, microphones and leadership skills. The adoption of these demonstrable business skills can begin the following day.
Why choose Vince Stevenson from the College of Public Speaking as your trainer?
He's a successful speaker/trainer with thousands of hours of classroom experience.
He first introduced the fear of public speaking classes to the UK in 2006.
He has many years of working with the creative elements of instructional design.
He has a vast experience in speaking, training and debating with Toastmasters International, Cogers Free Speech Club, and Sylvans Debating Club.
He's a leader who has created, maintained and developed an interest in the voluntary sector for years, working with St Mungo's Community College with HQ staff, and clients recovering from homelessness and addiction. He also founded Beckenham Speakers Club in 2006.
He has developed community projects with the European Social Fund. Three times he has worked as a volunteer in Bangladesh, training students with responsibility for projects in HIV/Aids, establishing democracy, eradicating prostitution, education for all, and fresh water and sanitation.
He has volunteered on three projects working on an international cultural and educational exchange program at An-Najah University in the West Bank.
Vince is a devoted speaker/trainer, and leader. So if you're looking for an exceptional experience in team building with communication, he's the man you need to contact. Click on the green contact button. On the desktop, it's to your right. On mobile, it's at the bottom of the page.
Notes about this course to potential delegates
This course will address the technical, physiological and personal aspects of effective spoken communication in business.
You will build a growth mindset, wherein you will learn from the trainer and peer feedback and no longer be limited by current real or perceived shortcomings.
You will learn practices that prepare you to enhance team interaction and understand what it takes to be a leader.
At the end of this course, and with continued practice, you will be able to:
Communicate with confidence.
Get your points across clearly and concisely.
Build trust in speaking out loud and articulate your thoughts more fluently.
Learn to engage in healthy discussions, negotiations and debates.
Share your passion with enthusiasm and conviction.
Be able to use persuasive language to engage and sway your audience.
Build a rapport with diverse audiences.
Assertive business communication involves mastering a topic and demonstrating in-depth knowledge while keeping things simple. This requires research, organization, and information structuring to present it most engagingly. You will learn various techniques, vocabulary, and content to tailor your message to the needs of your audience.
What you will do in this course:
Make speeches on various topics.
Become a team player.
Make confident contributions to the solution.
Deliver your role's successful outcomes.
Explore different styles and techniques.
Learn how to apply the universal laws of communication.
Improve your body language.
Learn how to create compelling content with everyday stylistic devices.
Learn how to arrange the flow of content for coherence buy-in.
Reality can be beaten with enough imagination - Mark Twain
Testimonials
"Clever, fun, motivational, intense and well-devised. Thoroughly engaging." Danar Hewer - Erbil, Kurdistan
"The time flies once class begins. It's absorbing to get through so much work in such a short time." Jane Jeffries, Oxfordshire
"I think the time pressures make these projects build. It brings out the best in decision-making." Cerys Hughes, Glamorgan.
"I learned a lot about my colleagues, communication and thinking on my feet. Clever stuff. Great project." Vernon Keats
Testimonials
I wasn't sure if this was the course for me, but I'm so glad that I attended. There was a lot in this course that has already helped me enormously. The theoretical and the practical was brilliant. The success criteria became apparent so quickly and the confidence I've gained is phenomenal. Thanks to Vince and Ajay for your time and patience with me especially.

Trevor - Student

I thoroughly enjoyed this course. The theory and its explanation made it simple to grasp. The sessions were fun and interactive and the two days passed so quickly. I'm confident that I can now bridge across different forms of communication and make a strong case for my argument.

Regards Alun - Cardiff
Confidentiality
We offer a totally confidential service and encourage liaising with clients before they consider booking courses. We recognise the significant investment in your time and resources. We accept your tight timescales and eagerness to take the next steps. Our payment options are practical and simple. For your security, we hold no client payment details online. With ever sophisticated cybercrime, your safety and security are paramount.
Our Guarantee
The College of Public Speaking is the UK's leading specialist public speaking organisation. All of our trainers are not just qualified in their field, but passionate specialists who live and thrive in that sphere. Our guarantee is that you'll enjoy a great learning experience at our course centre in King's Cross. The venue is a 10-minute walk from the London Underground, British Rail, and the Eurostar terminals. Accessibility is key - so come and join us within the next month. Check our Offers page to see what's hot this month.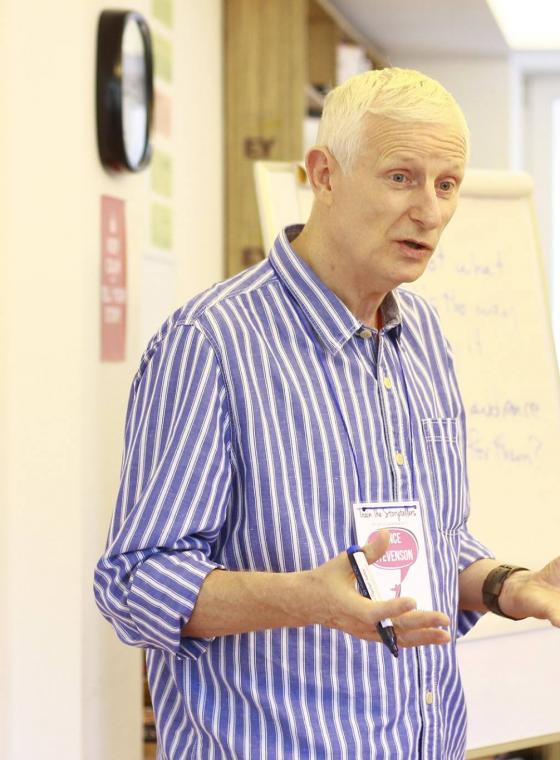 Vince Stevenson - Public Speaking Courses
Course Tutor
Vince Stevenson - (he/him) The Fear Doctor - Trainer of Trainers and Public Speaking Course devotee
Vince is a well-known public speaker course trainer and has won several awards for leadership, education, and development. He is a founder of the College of Public Speaking London UK and works as Education Director managing all aspects of public speaker course delivery and content. Vince is also one of the UK's leaders in public speaking coaching. He has worked with leaders across the spectrum of politics, industry, and finance and in numerous humanitarian roles.
Vince is an avid learner and has recently accomplished many certificates in Learning and Communication Science with the University of California, San Diego, the University of Amsterdam, and Instructional Design with the Institute of Adult Learning, Singapore. As part of Vince's devotion to lifelong learning, he's currently working on a Higher Educational Training Course at Harvard.
"An exceptionally useful day's training, delivered in a positive and personanable manner, very enjoyable and significant food for thought. Thank You."

"The anxiety is gone - now that I understand it. Not only can I make a presentation - I feel I have so much to give now. It's quite a transformation."

"Since attending the course, I feel like a completely different person; more confident, relaxed and easy going. I gave a speech at work last week and it went so so well."