Job Interview Skills
Job interview skills are essential. Your interview technique will either seal the deal or leave you in despair. With huge uncertainty in the job market, keep your CV up to date. Prepare with an expert, read our job interview skills course questions and answers. Work on your job interview techniques!
Mutually Convenient
£557 + VAT
This intense 3.5 hours session will help your focus become laser sharp.
The course is usually face to face in our King's Cross course centre but due to social-distancing and travel restrictions, it's currently delivered via Zoom (which is an excellent alternative).
Are you ready for that big job interview?
Do you want to improve your interviewing technique?
Do you need the boost in confidence that first class preparation brings?
Why not call the College of Public Speaking London?
This personal investment will repay you many times over.
One 1/2 day session produces a massive breakthrough in personal impact.
It's an intense experience, but your focus will become laser sharp.
It's the difference between achieving your dreams or not...
Please note this course is a 1/2 day session (3.5 hours).
Mutually Convenient
£557 + VAT
Course Summary
Testimonials
Confidentiality
Our Guarantee
Course Summary
Here is the interview techniques course syllabus:
Applications, CVs and Cover Letters
Planning and Preparation
Arriving at the interview
Building Rapport with the Interviewer
Handling Tricky Questions
Managing Interview Presentations
Closing the Interview
Handling the Job Offer
Detailed course notes for future reference
'Fortune favours the prepared mind' - Louis Pasteur
Throughout your career, you'll probably encounter upwards of 25 job interviews. With the speed of technological change insatiable - don't just get ready, stay ready.
Evolution is not about the biggest and the fastest. Evolution is the ability to quickly adapt to new environments, disciplines and flourish.
Have you developed your adaptive strategy yet? Are you recession-proof? Your interview technique will determine your future success.
A personal note from your facilitator Vince Stevenson
Since I became involved in personal development almost thirty years ago, I have been incredibly successful in helping others. Interview skills courses are particularly rewarding.
During my freelance IT career, I moved around the world taking high-profile jobs time after time. I moved from Operations to Operations Management.
System Administration to Programming, to Project and Programme Management, then into Training, Training Graduate Programmes worldwide.
At the core of all skills are literacy and communication. These two light the touch paper for your career trajectory. With both, you can easily transition disciplines.
During those frenetic years, I only failed in two job applications - both because of lack of preparation.
If you're not ready, not prepared, not eager to excel in your chosen profession, the odds are stacked against you.
In order to help others, I am constantly adapting to my personal environment and building new interests. Your education must include the development of transferable skills.
What happens if your professional discipline became obsolete overnight? What happens if your business didn't survive the recession?
You need to be prepared and being an excellent communicator will always be valued and get you noticed. First-class interviewing skills are a strategic imperative.
Whenever I have asked individuals for a testimonial, I have never had a problem with them producing something encouraging regarding our work together.
I have about an 80% strike rate of success from the feedback I receive following individuals' interviews.
I'm sure that you'll find my feedback objective, supportive and constructive.
Because I work in the field of public speaking and interview skills, I am giving feedback throughout the day.
I know what to look for, and I know how to coach people into successful patterns of communication.
Most of all, I'm sure you'll find our session thought-provoking and future-enhancing. I'll identify your strengths and areas for improvement.
If there is anything holding you back from success, it will emerge and I'll offer you options for further development.
There is a massive need for interview candidates to be thoroughly prepared because it's a buyers' market. Employers expect to find the ideal candidate. So make it easy for them to select you.
In information industries, the way you communicate is essential. Your ability to articulate a coherent message will set you apart from the pack.
There are many well qualified and experienced candidates currently available and only the best prepared will find that ideal job.
Out of practice?
If it's been a long time since your last job interview, I can help sharpen your interview technique with some focused exercises and role-plays. It's great for your confidence to walk into an interview knowing that your interview technique is fine-tuned.
Feedback
Feedback from exit interviews indicates that many ideally qualified and talented candidates do not achieve their interview goals simply due to poor preparation.
Their inability to answer straight forward questions puts them on the back foot. If your interview technique is not up to scratch, you'll get found out.
Assumptions
Having worked hard on your CV, it's easy to make the assumption that your CV has been read, accepted and that every salient point within it, digested by the interviewer.
This is unlikely. Interviewers, particularly from the HR domain see dozens of CVs every month. How much quality time can they allocate to your CV?
The interview is your prime opportunity to expand on your personality, achievements and future ambitions. To demonstrate confidence and express yourself professionally.
Your CV is the hook, your interviewing technique is what reels them in.
While this recession endures, those planning and preparing for the upturn will be the eventual winners.
Our interviewing skills course lasts for a 1/2 day (that's 3.5 hours). There are theoretical elements to discuss followed by participation in numerous role-play scenarios.
It's important to see the process from both sides of the table.
What to expect in this interview techniques course
A great deal of time is spent examining the types of interview questions you would generally expect.
This alone will get you ahead of the game. To conquer the panel you need to show that you're competent, reliable and a great problem-solver.
There's a secret structure to answering some interview questions. The secret is to make it look like you're not using an interview technique.
We spend time devising coherent strategies for answering tricky interview questions.
You will also receive comprehensive documentation for review following the course.
My coaching style is light and instructive. It's also enormous fun for us both.
The success factor lies in your preparation as well as your ability to shine at the interview.
If you're well prepared, confident and articulate, you have the type of unfair advantage that we all dream about.
If you're interested in our interview techniques course and want to become an insider on interviews mastery, we will take you behind the scenes.
Just click on the Contacts page on the right - complete the short form and tell us a little about yourself, your profession and your ambitions. We'll be in touch with you shortly.
The Job Interviews Skills course is accredited by CIMA. The Chartered Institute of Management Accountants and a course certificate (digital) is available for all participants.
Testimonials
Thanks for the thorough grilling Vince. It gave me great confidence.

Elaine Barker, NHS

Excellent advice on body language and eye contact. Made all the difference on the big day.

Ian Jacobs, Solicitor

Perception, perception, perception, great interview techniques and a great first impression.

VJ Patel, Accountant

Great tips on handling tricky questions and turning negatives into positives.

Joanne Smith, Civil Servant

Marvelous advice on closing an interview and getting the job.

John Clark, Freelance Java programmer

Super constructive feedback on personal development. Much appreciated and landed me my first job.

John Lowe, Undergraduate Oxford

Gold dust - absolute gold dust. Many thanks Vince. It was a great confidence booster.

Maria Smith, Undergraduate Southampton

The role plays were particularly beneficial for me. It's difficult to practice at home or work. This felt more like the real thing.

Zadie Zidane
Confidentiality
We offer a totally confidential service and encourage liaising with clients before they consider booking courses. We recognise the significant investment in your time and resources. We accept your tight timescales and eagerness to take the next steps. Our payment options are practical and simple. For your security, we hold no client payment details online. With ever sophisticated cybercrime, your safety and security are paramount.
Our Guarantee
The College of Public Speaking London is the UK's leading specialist public speaking organisation. All of our trainers are not just qualified in their field, but passionate specialists in their field. We met our colleagues working in the voluntary sector and that same passion shines through thirteen years later. Our guarantee is that you'll enjoy a great learning experience at our course centres in Kings Cross. The Kings Cross venue is a 5 minute walk from the London Underground, British Rail, and the Eurostar terminals. Accessibility is key - so come and join us within the next month. Check our Offers page to see what's hot this month.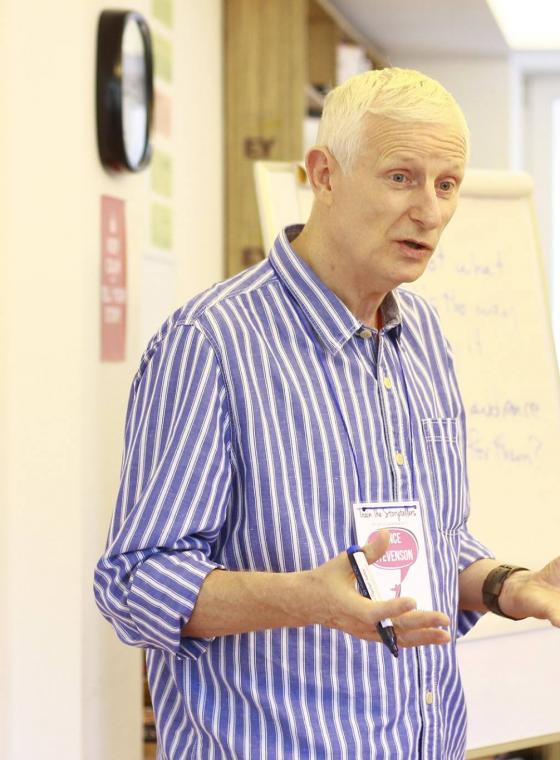 Vince Stevenson
Course Tutor
Vince Stevenson - (he/him) The Fear Doctor - Speaker - Trainer - Author - Broadcaster
Vince is a well-known speaker/trainer and has won several awards for leadership, education and development. He is a founder of the College of Public Speaking London and works as Education Director managing all aspects of course delivery and content. Vince is also one of the UK's leading speech coaches. He has worked with leaders across the spectrum of politics, industry, finance as well as featuring primarily in a humanitarian role.
Vince is an avid learner and in recent years has accomplished many certificates in Learning and Communication Science with the University of California, San Diego, the University of Amsterdam, and Instructional Design with the Institute of Adult Learning, Singapore.
"An exceptionally useful day's training, delivered in a positive and personanable manner, very enjoyable and significant food for thought. Thank You."

"The anxiety is gone - now that I understand it. Not only can I make a presentation - I feel I have so much to give now. It's quite a transformation."

"Since attending the course, I feel like a completely different person; more confident, relaxed and easy going. I gave a speech at work last week and it went so so well."