Personal Development Course
by College of Public Speaking
Greater self-awareness can really elevate you and take you to the next level. We offer personal development training courses that are designed to help just that. Book your slot here.
Course Summary
Testimonials
Confidentiality
Our Guarantee
Course Summary
Personal Development Training Course - Two Day
Are you on a boat without a rudder? If so, you'll be lucky to find your destination. The current can take you anywhere, or worse - nowhere.
There are always two choices with the future. You can walk down a well-trudged path and expect the same humdrum results as ever.
Or you can take action and create your own path. Where do you want to be at the end of next year? Where would you like to be in 5 years?
The future is in your hands. The only way you can affect the future is by what you're doing in the now.
If you want to improve your life, there's every reason to take a two-minute tour of this page. That investment in your time will change your life forever.
Jim Rohn famously said, "formal education will make you a living; self-education will make you a fortune."
Think of this course as a personal reboot.
Although early life development and early formative experiences within the family, at school, etc. can help to shape us as adults, personal development must continue into and throughout later life.
Warren Buffett said, "the most important investment you can make is in yourself."
Many leadership courses weave into them some degree of personal development training. If you're in a management or leadership role we can help build your confidence and unlock your potential.
'Today is better than yesterday' and with this attitude, you're heading to a place where your potential can be reached. Where you're operating at maximum capacity in every aspect of your life.
We offer personal development training courses that are designed to assist you to navigate your path to greater self-awareness and become more assertive. It will raise your confidence while building a more positive attitude in both your working and personal lives, leading to a more fulfilling, higher quality life.
By integrating this learning into your repertoire of skills you will develop a highly tuned sense of self-awareness that helps you to achieve and develop your highest potential.
As Maslow suggested, "what is necessary to change a person is to change his self-awareness".
We give you simple, practical tools to become the best versions of yourself. These tools improve your life on both a personal and professional level.
Therefore, the success of your future lies within your hands.
If you don't like being told what to do. Then you have to know what to do. So take a step forward now. Action is what's needed most.
Why is personal development important?
What do I want from a 2-day personal development training?
This course is more than just information and the provision of a tool kit. This course is a turning point, a pivotal moment in your life. It is my personal commitment, that when candidates look back on this course, you feel the difference this 2-day event made.
For some, success is more money, a bigger house, fame, a top management position. In reality, success is the realisation of self-chosen goals.
Personal development allows you to utilise all aspects of your personal and professional experience towards those goals.
This thought-provoking and practical training course encourages you to contribute more fully to discussions. You will learn in a friendly and relaxed atmosphere with likeminded people.
Personal development training helps you to achieve the best of yourself and others. Master your own emotions. Gain greater self-awareness. Develop more Emotional Intelligence. If you're always trying to avoid difficult emotions, then how are you ever going to fully understand them? Avoiding is never the solution.
On the other hand, when you deny your true nature because you're trying to fit in with the crowd – then you are not living a true life. Re-establishing your relationship to yourself and to the rest of the world is the aim of the training.
You define success by identifying your goals and pursuing them. Only you know what you want to achieve, and the key to achieving it is in your hands via your actions.
Programme Overview
Day one is about self-realization, it explores who you are, really finding yourself and building the foundation to prepare for the second day which is full of life-changing tools, that you must apply.
It's about change and the way you feel and manage yourself. Without a strong understanding of yourself, it is hard to either improve or to respond effectively to others.
So, day one is about building a foundation that sets up the structure for day two.
Day two is about change; the way you deal with challenges and difficulties. Standing up for who you are and what you want. Preparing to live life on your own terms.
This is the essence of personal development, a set of skills designed to help you reach your full potential, at work, in study and in your personal life.
"The harder you work, the luckier you get" – Gary Player
You make your own luck by working smart and hard.
By the end of the programme participants will have:
built self-awareness
understood their core values and beliefs
understood how to take more control over issues
established ways of managing thoughts, feelings and behaviours
increased confidence
improved self-esteem
become more proactive
take responsibility for your own self-development
communicate effectively
be more assertive
define clear goals
be re-motivated and re-energised
What results can you expect?
Whether you want to further develop your career, improve your life skills or set practical, yet stretching goals, this course will provide the tools to inspire and empower you to change your life.
Personal development focuses on achieving personal growth through enhanced self-awareness and the acquisition of additional knowledge and skills that will help you achieve your goals.
Though this personal development course focuses on your non-professional life, the work has a direct reflection on your work-life. Leading a happier lifestyle always has a positive impact on your professional responsibilities. This, in turn, feeds back to create an even happier life. It's the kind of positive cycle that has the ability to lift one to greater levels of happiness and contentment.
This training helps you to learn how to take greater control of your life and achieve the personal and professional balance you want, and identify how to improve performance and become even more effective both personally and professionally.
Who is it suitable for?
This personal development training course is designed for people from all backgrounds, ages and stages of their lives. It allows them to enhance their own skills and abilities while building confidence, assertiveness and a positive image. Your potential is an unlimited future.
those who wish to develop their personal skills
staff at all levels of an organisation
those who wish to develop themselves as more competent and effective managers
There are always two choices with the future. You can walk down the well-trudged path and expect the same humdrum results as ever.
Or you can take action and create your own path. Where do you want to be at the end of next year or in five year's time?
The future is in your hands. The only way you can affect the future is by what you're doing in the now.
Click on the contacts page and make a call that will change you for the rest of your life.
We look forward to hearing from you and sharing a new beginning...



Testimonials
The course was well structured and presented and I found it thought-provoking from the opening remarks right through to the end. I have done a lot of personal development, or at least I thought I had. Banu's stories and examples really related to me on a deep level and I can see numerous opportunities for improvement.

Josh Carr

Fun, enjoyable, clever. That's how I'd describe Banu's personal development course. There's a lot of variables to think about and I thought we were given sufficient time to explore the opportunities of each module. It's very easy to recommend this course to anybody who feels stuck or just wants to improve in their personal and professional lives..

Teresa Wagner

I found Banu to be a really inspirational woman. Her own story was filled with life, light and joy in how she had overcome the many obstacles of moving to a new country without speaking a word of the language. Many people would give up, but not Banu. Her business success was assured because of an incredible appetite for personal fulfillment and the desire to continually push herself to the limits. Wonderful course with some first class colleagues. Thank you again Banu for this exceptional experience.

Olga Borosova

This course was a joy. To work with such a successful woman as Banu and to be led through many interesting and absorbing exercises. I was gripped from the opening ice-breaker exercises all through to the very end. I would love you to come and run this course in my country, Nigeria. Let's talk again soon.

Femi

Great course - very personable trainer and fascinating content. I enjoyed the exercises in pairs and in the group. There was a collaborative atmosphere from the opening words and everybody pulled together well in an uplifting experience.

Jakub Olni

I came a long way from Germany for this course and I'm glad that I did. I had been stuck in my ways for some time and progress was barely noticeable. The atmosphere, the exercises and insights from Banu were priceless. I see things differently now.

Elena Horvath
Confidentiality
We offer a totally confidential service and encourage liaising with clients before they consider booking courses. We recognise the significant investment in your time and resources. We accept your tight timescales and eagerness to take the next steps. Our payment options are practical and simple. For your security, we hold no client payment details online. With ever sophisticated cybercrime, your safety and security are paramount.
Our Guarantee
The College of Public Speaking is the UK's leading specialist public speaking organisation. All of our trainers are not just qualified in their field, but passionate specialists who live and thrive in that sphere. Our guarantee is that you'll enjoy a great learning experience at our course centre in King's Cross. The venue is a 10-minute walk from the London Underground, British Rail, and the Eurostar terminals. Accessibility is key - so come and join us within the next month. Check our Offers page to see what's hot this month.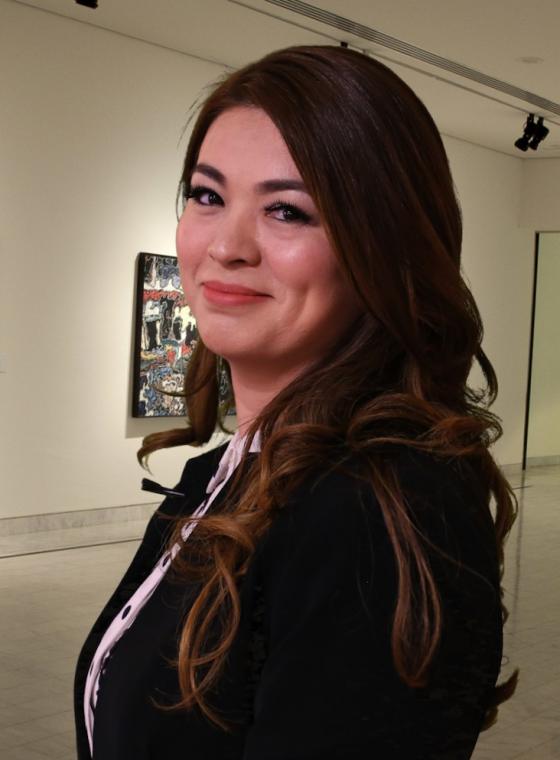 Banu Aierken
Course Tutor
The exploration of Personal Development as a discipline transformed my life. I find no problems or challenges that can't be overcome as long as you continue to learn and grow. Personal Development is at the heart of life's journey.
I have overcome many challenges, both personally and professionally. Whenever I face a new obstacle or hit a plateau, I know it is time to learn and grow. This approach works every time. Despite the size of the problem, when I grow, the problem dissipates.
In his Ted Talk 'From Knowledge to Knowledgeable', Michael Wesch asserts that 'meaning isn't something you find but [something] that you create. This assertion challenges me to develop learning designs that provoke deeper, more open-ended thinking.
"An exceptionally useful day's training, delivered in a positive and personanable manner, very enjoyable and significant food for thought. Thank You."

"The anxiety is gone - now that I understand it. Not only can I make a presentation - I feel I have so much to give now. It's quite a transformation."

"Since attending the course, I feel like a completely different person; more confident, relaxed and easy going. I gave a speech at work last week and it went so so well."