Storytelling for Business and Training
by College of Public Speaking
Storytelling for business and training must communicate emotion. The audience must feel love, empathy, shock, discomfort, or pain.
Your audience may never remember your point, but they will always remember your story.
Whether you work as a trainer or a salesperson or in any professional discipline requiring communication and persuasion, the ability to create a compelling image to underpin your argument is crucial to winning the point. We're all in sales - even if we're selling concepts, ideas, projects and plans. We want our audience to see and feel the message and buy into it.
There is much more to being an engaging speaker than just good eye-contact and a clear voice. You can lose yourself in storytelling. Some of the case studies we'll share do just that. Is it engaging? Yes. Is it persuasive? Yes. Is that your goal? Yes. Then join us on this ground-breaking one day course in London.
Maps, local hotels and amenities - all the local research in one document for you
Course Summary
Testimonials
Confidentiality
Our Guarantee
Course Summary
Due to operational demands, we can only offer this course as an in-house event
The fee for this 1-day course is circa £1750 + VAT.
This course is ideal for 6 to 9 students. Please Contact us
Here's a synopsis of the course's activities:
We'll discuss the curse of knowledge and narrow it down to focus on distilling a concise message with an emotional punch
the Plot Twist Project - during the lockdown, I had the privilege of interviewing over 200 Indy authors and discussing their plot twist secrets.
I have compiled a meta-analysis of these twists, and we'll discuss the motives and behaviours of the protagonists
7 classic story structures
2 essential ingredients for an engaging story
3 magical contrasts to bind your story to the listener
How to recognise, access and harness the stories that surround us
How to make your message stick
How to make the mundane memorable
How to deliver with confidence, coherence and clarity
Some jobs require that we're heads down at our desks with little time to stretch our creative instincts.
This course utilises case studies and topical business/world issues to demonstrate the power and impact of storytelling.
What are the big brands doing to capture your attention?
We'll discuss popular brands and debate their tactics and effectiveness.
What could you and your company do differently to tell your story?
What are your customers and clients saying about your brand?
You're already a step closer to success because you can access our extensive research and insights.
You must dive into the material supporting your work and your company's brand and interests.
In 2023, the economic forecasts are predicting a post-COVID bounceback. Make sure that you're a part of that progressive movement.
Please sign up now, and I look forward to working with you soon.
The College of Public Speaking promotes inclusivity, diversity, and equality.
Research tells us that in the US, 25-35% of GDP can be attributed to storytelling activities by brands.
That's trillions and trillions of dollars every year. Are you making a reasonable contribution at personal and professional levels to that value?
Some quick win suggestions in your communication strategy:
a) does your brand help your customer achieve their goals?
b) does your brand help your customers positively portray themselves to the world?
c) does your brand make your customer's life more meaningful?
d) does your brand bestow your customer with emotional benefits?
In this course, we take you to the toolshed and introduce you to the implements that impact the world of communication.
We use some tools for heavy lifting, and others for drilling and raking. You'll find most of the tools in our toolshed, and we'll guide you to the others.
You're probably already familiar with some, but you're not using them consciously and not reaping what you've sown.
Most of the time, these tools hide in plain sight. But once you've explored the toolshed and polished some of these items, your world finds an extra dimension and an alternative lens.
We'll help you see opportunities that were previously missed. You'll be adding value to your company and your professional outlook.
We find these tools on CVs, blog posts, in advertisements (both TV and online), team meetings, conferences, conventions and anywhere where people communicate with clients, customers, and suppliers).
Would you be excited to sell your company's story? Yes? Then what are you doing to hook your customers and clients?
This course is designed to help you do just that. Through storytelling, build a strong hook that creates an emotional response in your clients.
Your competitors are telling stories, and whoever tells the best story wins.
So can we help you generate revenues, improve quality, gain market share, or save time?
Would that motivate you to learn more about how you can become your brand's go-to person of influence?
Great speakers, trainers and coaches are masters at creating simple images that linger in the audience's mind.
We must paint pictures that resonate long after the speech/pitch/blog is over.
A good story well told secures you the job at an interview or a promotion at work.
Confident communication that cashes in on compelling stories conjures a competitive advantage over your colleagues.
Are you a lawyer, a judge, a lawmaker? Do you tell stories about how you help acquit the innocent and punish the guilty in the courtroom?
Do you work in marketing, PR, Advertising, Leadership, Management, HR or Learning and Development?
Are you an activist or work at a think tank? Are you holding the governments of the world to account through storytelling?
Do you write blogs with stories? Are you a journalist that weaves disparate voices into a coherent narrative?
It's the difference between being stuck in a hole and flying high. With a little practice, you'll deserve your wings.
This skill changes people's perceptions allowing customers to stride the path to your brand's door.
What is the difference that makes the difference between your brand and your clients? We'll help you find the magic source..
What's the story that you're sharing with the world? What's the story your colleagues tell about you? Perception is everything.
If you could be 10% more effective in your persuasive work, what impact would that have on your profession?
Stories and well-chosen visual imagery create the reputation of a formidable communicator.
Billionaire Warren Buffett speaks encouragingly about the impact of improving his communication skills. Arguably, he says it's the best investment in his life.
There are many ways of telling stories; the simpler, the better.
There's the video story below. Low budget, but this award-winning advert hugely impacted the advertising industry.
This one in the same style tells another simple but effective tale about Volkswagen.
Moving forward in time - what are people saying about your brand?
A focus on stories, metaphors and images brings immense advantages. It makes you curious to find out what happens:
From the listener's point of view, a well-crafted image or story is more memorable and engaging than a download of dry statistics and research data.
And from the speaker's point of view, having a presentation structured around clear images and stories is easier to prepare and more natural to deliver.
Stars of blockbuster movies and serials know less about the show than their avid fans. A great story sticks in the mind. It creates emotional traction.
An engaging story improves the fundamentals of vocal variety, eye contact and the quality, subtlety and expanse of your gestures.
Have you struggled to 'find' stories in the past? What are the stories in the image above? Three jump off the page at me.
Powerful stories and potent images surround us daily. Often they're hiding in plain sight.
You need to know where to focus your attention to harvest this gold.
Disney promotes family values in their films. Our children's bookshelves overflow with myths and rhymes filled with subtle messages, home truths and moral guidance.
You're familiar with the stories of Adam and Eve. Cain and Abel and Newton's apple? They're hard to forget.
Can you remember where you were 9/11? It's not that you choose to remember; it's indelibly imprinted on your brain, so strong was the emotional human impact.
Excellent speakers harness the power of persuasive imagery because they know that facts and figures don't move us to action, but stories, images, and metaphors create an emotional shift.
This 1 Day course in Stories, Pictures and Metaphors aims to help you broaden your range of communication skills on the continuous journey to becoming a truly memorable speaker.
You'll discover how to source and craft compelling content and how to design and construct vivid metaphors that reinforce your message.
About the venue - Voluntary Action Islington is Islington Council's hub for charity and voluntary organisations. During the COVID pandemic, VAI's management enhanced the quality of the training rooms and upgraded the resource facilities. We have hired rooms at VAI for the last ten years, and we're delighted that our fees support community initiatives. Over the years, we've also run many pro bono sessions for VAI and voluntary sector staff. We are delighted to be back in the building after the 15-month COVID hiatus.
Testimonials
Vince brings all of his training and business experience into the classroom which gives it a really fresh and authentic feel. Loved the exercises.

Trevor Monk

Very informative and great anecdotes which illustrated points and provided visual markers.

Catherine Murray - Girl Guiding

The most interesting training that I have ever taken part in! Experience + Wisdom + Perfect teaching approach.

Marta Panasiuk - Mintel

The training was spot on. He really listened to us and customised his responses throughout.

Jo Spiteri - Porchlight

Loved the creation of visual examples through the use of body and how relating the experience really helps demonstrate the message.

ACCA

Motivational and approachable. So much information, brilliantly delivered.

Penny McLachlan - Coutts

Vince said something vitally important about storytelling in the first two minutes. I found it stunning. His curse of knowledge metaphor stopped me in my tracks. His use of questions was mesmerising. The answers were in plain sight, but I couldn't see them. Now I can.

Sandra Davison

Approachable and knowledgeable and good use of examples to simplify the material.

Steve Sutherland - Confirmit

In just one day the class of children know how to craft their personal stories and experiences into powerful and engaging speeches that resonate with an adult audience as well as with a younger audience. It is a marvellous way to help them increase self-confidence and in the process - almost without them even realising it - become natural speakers and excellent communicators.

Matt Ball - Primary School Head Teacher

Thoroughly enjoyed the course, the content and exercises. Vince has a lot of business experience which he uses to tell compelling stories about his business and colleagues. Funny, clever and sometimes poignant. He doesn't pull his punches.

Vera Gold

Very good rapport, attention to detail, individual support, positive atmosphere and encouragement - a great place for learning.

Carolyn Savage - Winter School Finder

Great example; how to express yourself, how to be engaging and how to match body language with what is said.

Gita Petrevica - Opal Transfer
Confidentiality
We offer a totally confidential service and encourage liaising with clients before they consider booking courses. We recognise the significant investment in your time and resources. We accept your tight timescales and eagerness to take the next steps. Our payment options are practical and simple. For your security, we hold no client payment details online. With ever sophisticated cybercrime, your safety and security are paramount.
Our Guarantee
The College of Public Speaking is the UK's leading specialist public speaking organisation. All of our trainers are not just qualified in their field, but passionate specialists who live and thrive in that sphere. Our guarantee is that you'll enjoy a great learning experience at our course centre in King's Cross. The venue is a 10-minute walk from the London Underground, British Rail, and the Eurostar terminals. Accessibility is key - so come and join us within the next month. Check our Offers page to see what's hot this month.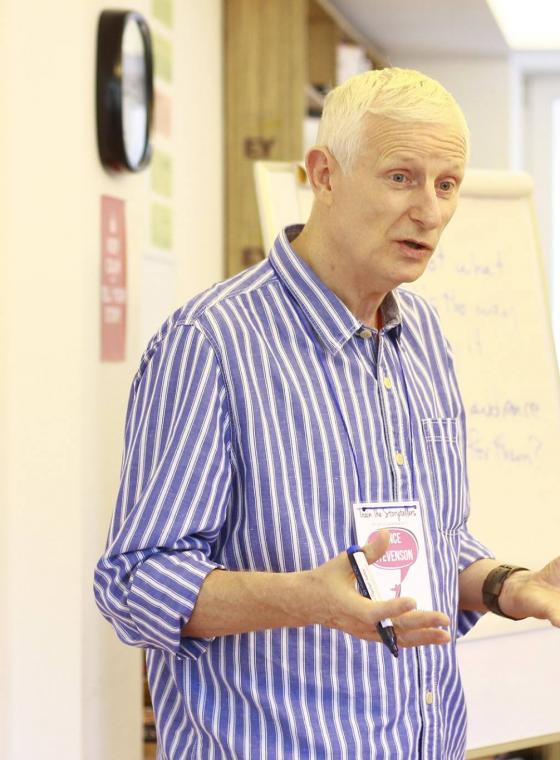 Vince Stevenson - Public Speaking Courses
Course Tutor
Vince Stevenson - (he/him) The Fear Doctor - Trainer of Trainers and Public Speaking Course devotee
Vince is a well-known public speaker course trainer and has won several awards for leadership, education, and development. He is a founder of the College of Public Speaking London UK and works as Education Director managing all aspects of public speaker course delivery and content. Vince is also one of the UK's leaders in public speaking coaching. He has worked with leaders across the spectrum of politics, industry, and finance and in numerous humanitarian roles.
Vince is an avid learner and has recently accomplished many certificates in Learning and Communication Science with the University of California, San Diego, the University of Amsterdam, and Instructional Design with the Institute of Adult Learning, Singapore. As part of Vince's devotion to lifelong learning, he's currently working on a Higher Educational Training Course at Harvard.
"An exceptionally useful day's training, delivered in a positive and personanable manner, very enjoyable and significant food for thought. Thank You."

"The anxiety is gone - now that I understand it. Not only can I make a presentation - I feel I have so much to give now. It's quite a transformation."

"Since attending the course, I feel like a completely different person; more confident, relaxed and easy going. I gave a speech at work last week and it went so so well."