Fear of Public Speaking Courses London
Public speaking can be fearful and that fear can be frustrating at times. Here at the College of Public Speaking, we help you conquer that fear. Find out more course details here.

"Let Me Transform Your Public Speaking Fear Into New Confidence & Poise - In Just A Few Short Hours In London."
- says "The Fear Doctor" Vince Stevenson, founder-director of the College of Public Speaking London which has helped over 12,000 people from 50+ countries to manage their fears and speak with confidence since 2006
Be honest now: when called upon to speak in public, how do you FEEL?
Scared? Paralysed? Shaky? Dry throat? Racing heartbeat? Profuse sweating?
Maybe even dizzy, short of breath, or thrown into a full-scale panic attack?
If so, let me assure you:
You are similar to the 12,000+ students, from 50+ countries who I've trained over the last 16 years to:

1) 'Reprogram' the natural fear they feel when asked to speak in public, and
2) Speak from a position of genuine, easy confidence and poise, using simple and immensely powerful techniques.
Question 1: What is critical for you to resolve right now?
Question 2: What's going to happen if you don't sort it out?
Maps, local hotels and amenities - all the local research in one document for you
Course Summary
Testimonials
Confidentiality
Our Guarantee
Course Summary
Fear of Public Speaking Courses London
The College of Public Speaking promotes inclusivity, diversity and equality.
Join me in London for 1 or 2 days, and say goodbye to public speaking anxiety and self-doubt, like thousands of students before you.
As founder-director of the College of Public Speaking, it will be my pleasure to help you defeat public speaking anxiety and discover confidence and poise...
My name is Vince Stevenson (he/him) - otherwise known as 'The Fear Doctor'. If you're motivated to overcome your fear and enjoy life as a confident speaker, we have the skills and experience to positively change your life.
Since 2006, we've helped thousands of people from organizations such as the Foreign & Commonwealth Office, Buckingham Palace, BT, HSBC, Oxfam and many private individuals who realise the value of this critical skill.
And to remove any risk from your experience, our promise is that when you complete our unique speaking process and if you have not turned the corner as an effective speaker, we offer you a 100% money-back guarantee.
What would your confidence, your career, your life look like in the next twelve months if you simply joined me for a day or two in London?
Here's the truth: your fear is nothing more than a bully that melts away when properly confronted, leaving you free to enjoy the life and success you deserve...
Fear says others will laugh at you; that you're not good enough; that you're not worthy; that your speeches will flop, and that you are a flop.
Fear says you cannot cope; that you lack preparation. You don't know what you're talking about and nobody is interested anyway.
Fear tells you that your topic is boring and your points and examples are obvious and barely worth saying.
And as a result, fear holds you back, blocks your path to success and prevents you from achieving your goals.
Good news - there is a solution! Simply join me on my next Fear of Public Speaking course in London
You need the correct strategy, techniques and guidance to overcome it.
And if you join me for just one day in our first-class training facility in Kings Cross, London, I'll show you the winning techniques, including:
How to build or rebuild your self-confidence
How to focus nervous energy on positive outcomes
The key to opening your speech with impact and confidence
Breathing techniques that help you remain calm
A 6-point checklist to help you speak with confidence
Developing your 'Base of Certainty'
Tapping into your personality, creativity and authenticity
Practising correct posture, breathing and relaxation
Building confidence through interactive group exercises
You'll get a unique understanding of the fear of public speaking, and a bag of effective tools and techniques for future use.
Like all of our professional classes, our Fear of Public Speaking course is accredited by CIMA, the Chartered Institute of Management Accountants.
CIMA's parent group Pearson is the world's largest private educational concern.
What's the difference between the one and two-day courses?
On the 2-day course, you get an extra day's speech to practise, expert feedback and exposure to mindset techniques.
The 1-day is a great course, and it's high paced. The 2-day is more relaxed as we have more time to explore each individual's issues.
Class sizes & times:
Our class sizes range from 4 to 10 people, which allows everybody sufficient time for individual speeches and feedback.
Courses start at 9:30 and end at 5 pm. 45 minutes for lunch. It's a fun and intensive day.
How to find the venue
Voluntary Action Islington is an Islington Council facility and is a ten-minute walk from Kings Cross station.
From the station, turn left and walk down Pentonville Road to Killick Street and the office is 30 yards past the Tian Tian Market shop on the corner.
Press the buzzer and the receptionist will invite you up to the 2nd floor.
Final Consideration:
In 2004, Unilever launched The Dove (soap) 'Real Beauty Campaign'. Their research discovered that only 2% of women around the world would describe themselves as 'beautiful'.
The 'fear of public speaking' is a reflection of your inner beauty and perceived competence. Sadly, I'm no oil painting on the outside but I don't care. That's just a minor facet of who I am.
Within you, there is a diamond that shone brightly as a child. As we grow older, we experience life's upsets, disappointments and failures. The diamond gets covered by bitterness, resentment or defeat. It loses its shine. It becomes lost and forgotten. Then you're invited to make a speech to your colleagues or clients, and you feel less than capable of climbing that emotional mountain. An emptiness swells in the void of your heart, and you feel powerless.
This is often the trigger that creates the need for you to take action. Without going into details, I know from sixteen years as a 'fear of public speaking,' trainer, that your diamond resides within you. During your time in class, we'll establish your diamond's whereabouts and take it out and polish it together with class colleagues.
In summary:
Specialist trainers: friendly, qualified and empathetic
One of London's most easily accessible training venues.
Outstanding outcomes question one: What is critical for you to resolve right now?
Question two: What are the implications if you don't resolve it?
------------------------------------------------------------------------------------------------
This course has changed the path of thousands of students over the last sixteen years.
Our clientele comprises fine, ordinary, everyday people who want to make a greater impact on the world.
The secret to success in every discipline is hard work, focus and a little sacrifice.
What you'll learn in this course will change the trajectory of your life.
Sign up today on the links at the top of the page.
The only way you can positively affect your future is by what you're doing in the now. So what are you doing now?
I would love to work with you one day soon. Regards Vince
If you are interested in fear of public speaking courses or have any questions, please call Tracy on +44 (0) 330 043 2677 or email admin@collegeofpublicspeaking.co.uk.
The College of Public Speaking promotes inclusivity, diversity and equality
About the venue - Voluntary Action Islington is Islington Council's hub for charity and voluntary organisations. During the COVID pandemic, VAI's management enhanced the quality of the training rooms and generally upgraded the resource's facilities. We have hired rooms at VAI for the last ten years, and we're delighted that our fees support community initiatives. Over the years, we've also run pro bono sessions for VAI and voluntary sector staff on many occasions. We are delighted to be back in the building after all this time.
Testimonials
'Hi Vince, I am already lining up some public speaking events one of which might be to seventy people. I am not frightened at all now. Previously I would have died a thousand slow deaths of anxiety and nervousness which could well have resulted in a panic attack on stage. Now I can't wait. I'm proud to announce that I can do it. Who would have thought it from a two day weekend session?'

Simon Smith - Northolt

'Dear Vince, Today I did my first major public speaking since attending your course a few weeks back. I did an assembly in front of 150 pupils and then staff training at the end of the day. I'm pleased to say that I paused, didn't get nervous and spoke so fluently. All day, I've had kids approach me and thank me for the assembly. One even said he found it "inspirational". 'I can only really thank you for this. I took all of your advice, reviewed the speeches and read your book since the course. I feel so much better now and truly believe that I can do this. Thank you so much and I wish you and your family a very Merry Christmas!'

Julie Joyce - Oxford

'Hi I arrived with much trepidation following a shocking recent experience at work where my boss shouted at me after a terrible performance. I thoroughly enjoyed the training despite being hesitant at first. Vince made us all very comfortable and his feedback was spot on for us all. Thanks for a great day. My confidence is slowly recovering.

Ahmed - Northolt

'Since attending the course, I feel like a completely different person; more confident, relaxed and easy going. I gave a speech at work last week and it went so so well.'

Francesca - Milan

'The nerve calming techniques really work. The visualisation and grounding exercises made me feel calm and strong. I feel so more confident already.'

Oleg - Wimbledon

'The opportunity to present in front of a supportive audience gave me confidence and removed a large part of my nervousness. I'm sure it will stand up well when I put it into practice. The course was coherent in structure.'

Marcos Santini - London

'There was a good amount of theory and ample chance to practice speaking in front of the group. Now I know the techniques involved and how to apply them, I won't feel the fear in future.'

Anna - Sardinia

'I have read the books and none of them made any sense. Now it's all in context, it's not so daunting. Thanks Vince'

Rachel Allott - Docklands

'I made the change. I made the difference. I just needed some guidance on how to do it. I'm grateful.'

Anastasia - Occupational Therapist - Ukraine

'The intensity of my fear has gone. This is the best thing I have ever done.'

Dan Hynes - Engineering graduate - Edinburgh

'The fear is gone. Not only can I make a presentation - I can do it really well.'

Paolo - IT Manager - East Midlands
Confidentiality
We offer a totally confidential service and encourage liaising with clients before they consider booking courses. We recognise the significant investment in your time and resources. We accept your tight timescales and eagerness to take the next steps. Our payment options are practical and simple. For your security, we hold no client payment details online. With ever sophisticated cybercrime, your safety and security are paramount.
Our Guarantee
The College of Public Speaking is the UK's leading specialist public speaking organisation. All of our trainers are not just qualified in their field, but passionate specialists who live and thrive in that sphere. Our guarantee is that you'll enjoy a great learning experience at our course centre in Kings Cross. The Kings Cross venue is a 5-minute walk from the London Underground, British Rail, and the Eurostar terminals. Accessibility is key - so come and join us within the next month. Check our Offers page to see what's hot this month.
All Course Dates
See below for a full list of available course dates. If you're ready to begin furthering your career, and uncover your hidden strengths, then sign up for one of the available slots.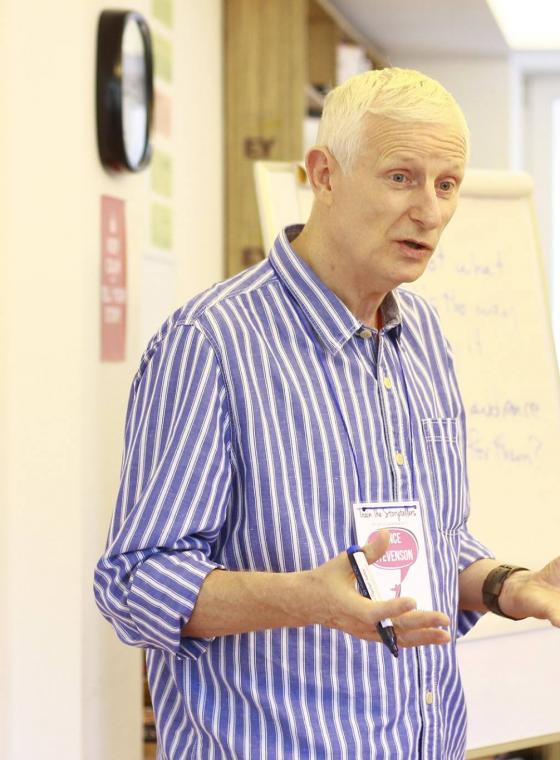 Vince Stevenson
Course Tutor
Vince Stevenson - (he/him) The Fear Doctor - Speaker - Trainer - Author - Broadcaster
Vince is a well-known speaker/trainer and has won several awards for leadership, education and development. He is a founder of the College of Public Speaking London and works as Education Director managing all aspects of course delivery and content. Vince is also one of the UK's leading speech coaches. He has worked with leaders across the spectrum of politics, industry, finance as well as featuring primarily in a humanitarian role.
Vince is an avid learner and in recent years has accomplished many certificates in Learning and Communication Science with the University of California, San Diego, the University of Amsterdam, and Instructional Design with the Institute of Adult Learning, Singapore.
"An exceptionally useful day's training, delivered in a positive and personanable manner, very enjoyable and significant food for thought. Thank You."

"The anxiety is gone - now that I understand it. Not only can I make a presentation - I feel I have so much to give now. It's quite a transformation."

"Since attending the course, I feel like a completely different person; more confident, relaxed and easy going. I gave a speech at work last week and it went so so well."