Advanced Speech Writing
Do you need to write a keynote speech? Our 1/2 day 1-2-1 advanced speechwriting course will give you the structure, tools and direction that you need. For group courses, please contact us and we'll discuss the options.
Mutually Convenient
£600 + VAT

This course can be arranged for a mutually convenient time either in-house or at a central London venue. Once you've told us of your interest in the course, we will contact you to arrange the date/time/venue details.
Writing and delivering a memorable speech is not easy even for experienced speakers. For the inexperienced speaker and speechwriter, it is something of a minefield. There are so many critical aspects to consider.
Maps, local hotels and amenities - all the local research in one document for you
Please note this course is a 1/2 day session (3.5 hours).
Mutually Convenient
£600 + VAT
Course Summary
Testimonials
Confidentiality
Our Guarantee
Course Summary
The story begins in ancient Greece 2500 years ago. The echoes of the first democratic speeches reverberate each day in offices throughout the world. Understanding how and why things work will give you a huge advantage over your peers. Good speechwriters have strategic aims. You'll find out what they are on this course.
Every great speech needs structure, achievable messages and a rousing delivery. The speaker must be trustworthy and credible. On all of our courses, we work constantly on speaking theory and delivery technique. We discuss many advanced speechwriting techniques like rhetorical devices, ethos, logos and pathos, storytelling and the effective use of metaphor. We explore both quantitative and qualitative methods for building a strong evidence-based argument.
The secret is to establish the correct balance of techniques, but nothing must ever look like a technique in a speech. That's why an experienced speaker and speechwriter can cut through the fluff and procrastination and help you to produce a defining moment in your personal or professional life.
Why are speeches important?
I think that if we were to ask Martin Luther King Jnr, Nelson Mandela and Barack Obama that question, they could all point to moments in their lives where they stood on a stage and delivered a speech of such a compelling nature, that all of the obstacles before them dissipated. Their powers of persuasion struck chords with their supporters who were galvanised into action.
Of course, you don't have to be a politician to create and deliver a great speech. Ordinary men and women across the country, week in, week out deliver speeches and presentations of great persuasion at business meetings, in sports clubs, in voluntary organisations where motivating volunteers is imperative to the success of their organisation. It's happening everywhere and there's no reason why you too cannot join the ranks of the country's most effective speakers. It just needs structure, practice and direction.
Your facilitator for this course is Vince Stevenson, a founder and Education Director of the College of Public Speaking London and a staunch supporter of public speaking across the Public, Private and Third Sectors. Vince has worked in the City for many years and in some of the largest companies both nationally and internationally. In his speaking work, he has worked with bankers, lawyers, accountants, footballers, TV presenters and politicians (and many others). For more details of Vince's work click on his profile: https://www.collegeofpublicspeaking.co.uk/about-us/vince-stevenson
Please contact Tracy on 0330 043 2677 or by emailing tracy@collegeofpublicspeaking.co.uk
Testimonials
I was always a little foxed by speechwriting in the past. Vince talked me through the salient considerations and the fog lifted. We worked on a checklist to ensure that the many variables for consideration were fully discussed. I had been focussing on the wrong things - no wonder I was getting frustrated in my work. Thanks, Vince - your clarity checklist makes my life so much easier.

Thelma - Finance Director

I needed some help at very short notice and a colleague recommended Vince as the goto man. He was really flexible in trying to meet me at the earliest opportunity. When we sat down and discussed my project which had overwhelmed me for some time, Vince deconstructed the elements of my work and rearranged the puzzle. There was greater structure and flow and it was so much easier to prepare, read and absorb. If you need help, go to an expert. Thanks for your patience Vince.

Terry - Food Marketing

When my boss went off sick last year, I nearly resigned. Being told that I'd have to write speeches for the Leadership Team was a huge shock. I didn't know where to start. I'm not a confident speaker myself, so this was the poison chalice of all jobs. Once I'd cleared my head, it was essential that I got some experienced advice. Vince's profile is impressive and after a five-minute discussion, I was confident that I'd found somebody that I could confide in. Vince completely put me at ease. We had a couple of detailed sessions and now, amazingly, I actually like speechwriting. It's fun. It's creative. It gives me a buzz when I feel how far I've come.

Pamela - Voluntary Sector
Confidentiality
We offer a totally confidential service and encourage liaising with clients before they consider booking courses. We recognise the significant investment in your time and resources. We accept your tight timescales and eagerness to take the next steps. Our payment options are practical and simple. For your security, we hold no client payment details online. With ever sophisticated cybercrime, your safety and security are paramount.
Our Guarantee
The College of Public Speaking is the UK's leading specialist public speaking organisation. All of our trainers are not just qualified in their field, but passionate specialists who live and thrive in that sphere. Our guarantee is that you'll enjoy a great learning experience at our course centre in Kings Cross. The Kings Cross venue is a 5-minute walk from the London Underground, British Rail, and the Eurostar terminals. Accessibility is key - so come and join us within the next month. Check our Offers page to see what's hot this month.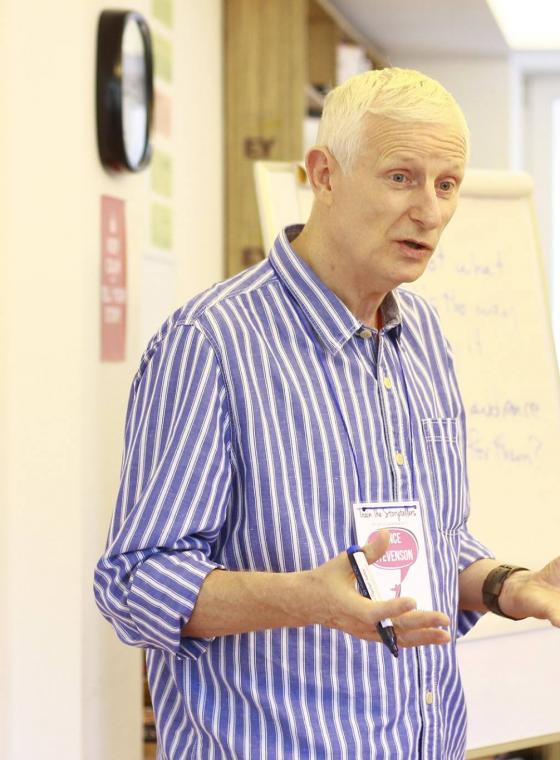 Vince Stevenson
Course Tutor
Vince Stevenson - (he/him) The Fear Doctor - Speaker - Trainer - Author - Broadcaster
Vince is a well-known speaker/trainer and has won several awards for leadership, education and development. He is a founder of the College of Public Speaking London and works as Education Director managing all aspects of course delivery and content. Vince is also one of the UK's leading speech coaches. He has worked with leaders across the spectrum of politics, industry, finance as well as featuring primarily in a humanitarian role.
Vince is an avid learner and in recent years has accomplished many certificates in Learning and Communication Science with the University of California, San Diego, the University of Amsterdam, and Instructional Design with the Institute of Adult Learning, Singapore.
"An exceptionally useful day's training, delivered in a positive and personanable manner, very enjoyable and significant food for thought. Thank You."

"The anxiety is gone - now that I understand it. Not only can I make a presentation - I feel I have so much to give now. It's quite a transformation."

"Since attending the course, I feel like a completely different person; more confident, relaxed and easy going. I gave a speech at work last week and it went so so well."