Business Communication
Our business communication course covers communication skills, managing and participating in meetings, and conducting interviews. Agree a time that suits you and get started today.
Mutually Convenient
£325 + VAT
This course can be arranged for a mutually convenient time either in-house or at a central London venue. Once you've told us of your interest in the course, we will contact you to arrange the date/time/venue details.
This level 4 certificate course covers effective communication skills, managing and participating in meetings, and conducting interviews.
What's the problem?
Our education system doesn't adequately prepare young people for the professional world.

They join the workforce with academic knowledge and great enthusiasm, but with limited experience, communication or interpersonal skills.

Many fear speaking to large groups

They are reluctant to speak up in meetings with clients, colleagues and stakeholders.

Often they have no experience of working in teams on complex projects.

They may lack meeting etiquette and may not know what's expected of them.
Mutually Convenient
£325 + VAT
Course Summary
Testimonials
Confidentiality
Our Guarantee
Course Summary
These can all lead to disengagement and a reluctance to contribute to team activities.
Your young team members must be empowered to contribute their ideas. That way they can make a positive impact by influencing complex issues.
With the right training, they'll improve their chances of being heard and creating that all-important change.
Our solution: The level 4 Certificate in Business Communication
The principles of communication never change. What changes is the context of communication. We're having rhetorical conversations all day, every day. Whether you're talking to your boss, your partner, your parents, the delivery man, your colleague or your car mechanic. Each conversation has a purpose and an ideal outcome. How many of your communications have a purpose, and how many ideal outcomes do they deliver? Many people find office life frustrating. Too much time is lost in ineffective communication. Change your frustration into achievement by coming on this insightful course.
On this course, delegates learn to:
Create their personal brand and gain clarity on the role they play in the organisation.
Articulate their message with confidence, purpose and passion.
Speak their mind clearly, concisely and with conviction.
Interact and engage in the workplace in a more effective manner.
Manage and participate in meetings in a constructive manner.
Conduct interviews that deliver results.
Day 1
An introduction to public speaking - busting the myths of communication - what it is - what it isn't.
Here you're introduced to the principles of communication. These principles never change. What changes is the context and what's most important is how you are perceived by your colleagues and clients? The way you speak, your tone of voice and your body language is so powerful. Understanding your own style will give you greater insights into the subtle and not so subtle communication styles of others.
Day 2
Meeting etiquette - the requirements of being effective at chairing and participating in meetings.
Interviews are tricky for the uninitiated. You're either a buyer of a seller. When you're buying, you must decide who it is you want to work with. Do they have the right background and experience? Are they trustworthy and capable? Are they a good fit for the organisation and show the right chemistry for your team?
When you're selling, you need to research the background and the values of the target organisation. Are you aligned with their values? Do you have the knowledge, experience and capability that signal you as a contender? Can you demonstrate that through the power of words alone? You have 30 to 45 minutes to make an impact. All it takes is one ill-considered sentence and you've blown it.
The interview process is invaluable for harnessing the effective skills of communication. Your ability to communicate to a high level got you the job in the first place, now you need to be able to ethically influence your colleagues and clients daily. This happens when you can tick the appropriate psychological boxes of all those with whom you communicate.
Don't leave it until you're 35 and a middle manager. Your communication skills today is what will propel your career enhancement. If in doubt, check out Warren Buffett's views on developing his public speaking/communication skills.
Communication is a hot topic – it's not like you can ignore it these days. It's a great skill to master early. It will change your life's options as soon as you master the basics.
Interview skills - what are employers looking for? How you meet their success criteria through effective communication.
Through speech-making, interactive exercises and role play, we explore the minefield of business communication.
The key to the day is the feedback which is delivered in an objective, constructive and supportive manner.
Benefits for the employer:
Better teamwork
More timely and effective decision-making.
Greater participation, creativity and the sharing of new ideas.
Clearer business communication and client satisfaction.
A happier and more engaged workforce leading to improved productivity.
Notes about this course to our delegates
In this course, you'll address the technical aspects as well as the physiological and personal aspects of effective spoken communication in business.
You will begin by understanding how you think and behave.
You will build a growth mindset, wherein you will learn from your mistakes and not be limited by your current real or perceived shortcomings.
You will learn practices that will prepare you to work better in teams and understand what it takes to be a leader.
At the end of this course, and with continued practice, you will be able to:
Communicate with confidence
Get your points across clearly and concisely.
Build confidence in speaking out loud and articulate your thoughts more fluently.
Learn to engage in healthy negotiations and debates.
Share your passion with enthusiasm and conviction.
Be able to use compelling language to engage and persuade your audience.
Build a rapport with people and earn their trust.
Powerful business communication involves mastering a topic and demonstrating in-depth knowledge while keeping things simple. This requires research, organisation and structuring of information to present it in the most engaging manner. You will learn a variety of techniques, vocabulary and content for you to tailor your message to the needs of your audience.
What you will do in this course:
Make speeches every day on various topics.
Explore different styles and techniques.
Learn how to apply universal laws and mantras of communication.
Improve your body language.
Learn how to structure a speech.
Learn the use of rhetoric, metaphors and other stylistic devices.
Learn how to arrange content for coherence and persuasion.
Use mental models to practice delivery and stay nervously excited during speeches.
Reality can be beaten with enough imagination - Mark Twain
Testimonials
I wasn't sure if this was the course for me, but I'm so glad that I attended. There was a lot in this course that has already helped me enormously. The theoretical and the practical was brilliant. The success criteria became apparent so quickly and the confidence I've gained is phenomenal. Thanks to Vince and Ajay for your time and patience with me especially.

Trevor - Student

I thoroughly enjoyed this course. The theory and its explanation made it simple to grasp. The sessions were fun and interactive and the two days passed so quickly. I'm confident that I can now bridge across different forms of communication and make a strong case for my argument.

Regards Alun - Cardiff
Confidentiality
We offer a totally confidential service and encourage liaising with clients before they consider booking courses. We recognise the significant investment in your time and resources. We accept your tight timescales and eagerness to take the next steps. Our payment options are practical and simple. For your security, we hold no client payment details online. With ever sophisticated cybercrime, your safety and security are paramount.
Our Guarantee
The College of Public Speaking is the UK's leading specialist public speaking organisation. All of our trainers are not just qualified in their field, but passionate specialists who live and thrive in that sphere. Our guarantee is that you'll enjoy a great learning experience at our course centre in Kings Cross. The Kings Cross venue is a 5-minute walk from the London Underground, British Rail, and the Eurostar terminals. Accessibility is key - so come and join us within the next month. Check our Offers page to see what's hot this month.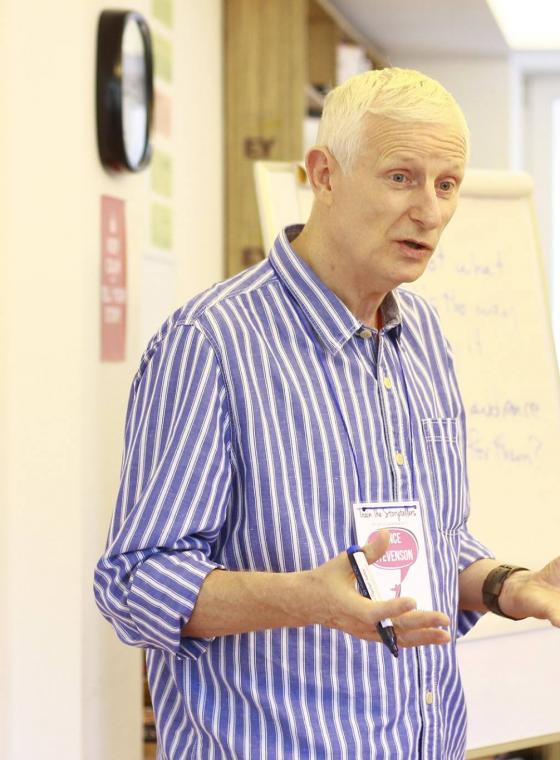 Vince Stevenson
Course Tutor
Vince Stevenson - (he/him) The Fear Doctor - Speaker - Trainer - Author - Broadcaster
Vince is a well-known speaker/trainer and has won several awards for leadership, education and development. He is a founder of the College of Public Speaking London and works as Education Director managing all aspects of course delivery and content. Vince is also one of the UK's leading speech coaches. He has worked with leaders across the spectrum of politics, industry, finance as well as featuring primarily in a humanitarian role.
Vince is an avid learner and in recent years has accomplished many certificates in Learning and Communication Science with the University of California, San Diego, the University of Amsterdam, and Instructional Design with the Institute of Adult Learning, Singapore.
"An exceptionally useful day's training, delivered in a positive and personanable manner, very enjoyable and significant food for thought. Thank You."

"The anxiety is gone - now that I understand it. Not only can I make a presentation - I feel I have so much to give now. It's quite a transformation."

"Since attending the course, I feel like a completely different person; more confident, relaxed and easy going. I gave a speech at work last week and it went so so well."