Executive Speaking Program
There may be a number of reasons why you're feeling inhibited in your communication. Time pressures, business uncertainty, and technological complexity are high up the list. It's impossible to excel if you're constantly feeling stressed. When you're feeling low, communication suffers.
Mutually Convenient
£5000 + VAT

This course can be arranged for a mutually convenient time either in-house or at a central London venue. Once you've told us of your interest in the course, we will contact you to arrange the date/time/venue details.
Your results are our only concern. Regular coaching with a leading speaking coach will accelerate your leadership development exponentially. Investment in this key skill is more than ever, your top priority. "Communication is probably the most important skill of the chief executive in the modern world", says Telstra's Andy Penn At the moment, I only have slots for 10 coaching clients and I currently have 8. If you'd like to ascend the executive dominance hierarchies, invest in the best. I'm just a call away.
Maps, local hotels and amenities - all the local research in one document for you
Mutually Convenient
£5000 + VAT
Course Summary
Testimonials
Confidentiality
Our Guarantee
Course Summary
Critical conversations -- Compelling communication -- Consummate credibility
There may be a number of reasons why you're feeling inhibited in your communication. Time pressures, business uncertainty, and technological complexity are high up the list. It's impossible to excel if you're constantly feeling stressed. When you're feeling low, communication suffers.
Causes of stress at work
The most common causes of work-related stress are work pressure, poor organisation and a lack of support. While some people excel under pressure and thrive with a looming deadline, others find these challenges intense and inhibiting. Identifying what causes you to feel stressed at work is the first step to mastery and making it work for you.
Signs and symptoms of work-related stress
If you feel stressed at work, your productivity and efficiency will be affected, which can cause your stress to worsen. There are a number of ways stress can affect your health and wellbeing. Common symptoms of stress include:
Mood swings
Low energy
Headaches
Upset stomach, including constipation, nausea and diarrhoea
Rapid heartbeat and chest pain
Insomnia or lack of sleep
Frequent colds and infections
Imagine the damage this can do to your ability to communicate effectively with your staff. If you've suffered in this way, then know that we're here to support you.
Communication skills are highly valued in the internet age. Companies project their professional image through traditional business avenues and all forms of online and social media channels.
To be heard, you and your executive style of communication must stand out from the crowd. You owe it to your colleagues and your followers to raise the bar and compete at the highest level.
Speaking is a leadership role. What you say and how you say it leaves an indelible mark in the minds of those with whom you interact. What is your purpose and what is your message? How do you want your audience to perceive you and your company? How can you change the world in a positive way?
Speaking and leading with gravitas isn't easy. For starters, it's difficult for many to define. You can spend a long time searching and not make any progress. This is frustrating and time-consuming. While you're slowly feeling your way, the opposition is progressing quickly. The good news is that gravitas is achievable and easy to acquire with guidance. To accelerate that process, you'll require the assistance of one of the College of Public Speakers' experienced trainers who will tap into your personality, creativity and authenticity. These personal attributes are your building blocks of success. By investing in your career progression now, it's only a question of time before you fully reap the rewards. If you don't speak and lead now, you'll lose out on future opportunities and that will be a further setback. Can you afford to wait any longer?
Opportunity: The world of business is forever changing. Last year's markets have moved on and this year's markets are challenging. Keeping your eye on the ever-evolving business and technological horizons isn't easy. So when you see that opportunity in the market you have to communicate it effectively. You have to persuade your colleagues or stakeholders that you have a sound proposal. You'll always get more than one big opportunity, but only the best-prepared communicators steal a march on the industry.
Solution: The Executive Speaking Program accelerates you to the next leadership level. Not only will you understand the communication process intimately, you'll also know how, why and when to implement the appropriate tool. Executive speaking is the route one communication channel. When great leaders speak, people listen.
The Executive Speaking Program was created to provide support to the developing leader. Great leaders are not born they develop over time with expert direction. Our tried and tested form of evaluation is based on objective, constructive and supportive feedback. We deliver the highest standards and we expect our student leaders to bring all of their professional skills to class. We recognise our students' skills and achievements to date and build on their foundation.
Our Executive Speaking Program process is designed to recognise your strengths, uncover your passion and release your potential.
Target Audience
Our program is designed for high-level players in business, politics and communicators in all aspects of personal development.
Schedule
If you're based in London, the program includes six face-to-face sessions of 3.5 hours. For your convenience, we will come to you. The development sessions are scheduled around your diary every four to six weeks within a six month period. If we are unable to work face-to-face, arrangements can be tailored to work via Skype or via a cloud-based solution.
Confidentiality
Our work with you is totally confidential. All work, discussions and strategies are your property and they remain in the classroom.
Working with an expert coach for a long period will build confidence and give you that concrete foundation to exceed your leadership expectations.
Executive Speaking Program
Learning Outcomes
As you accelerate your communication skills you equip yourself to lead with strength and passion, you become a powerful leader who knows how to educate, influence and inspire.
By the end of the Executive Speaking Program you will be able to:
Accelerate your speaking delivery skills - physical presence, vocal resonance, and distinctive language - to help you look, speak, and perform in a manner consistent with your company culture and career goals
Learn to use a content structure to keep you focused and on-track - with or without a speechwriter
Adopt strategies that will help you exude a polished, professional image and enhance your personal style
Master powerful techniques to understand the mindset of your audience, your customers, and your executive team, thus increasing the quality of your communications with listener-focused conversations
Raise the bar and model a high standard for superior presentations for your clients, stakeholders, employees, peers, colleagues, and all members of the workforce.
How it works
We commence the program with an assessment of your current speaking skills (based on our psycho-linguistic form of objective, constructive and supportive feedback), identify and agree your goals, and discuss recent feedback. By observing a small number of excellent speakers we will agree on a benchmark and then discuss a personal roadmap to achieve that standard. You will be presented with a toolkit of opportunities. We will discuss at length the type of speaker you want to become and how you want the audience to perceive you.
Though the theory is incredibly valuable, you will be required to make a number of speeches throughout the sessions. Each speech will have a theme and a purpose. The speech will be evaluated to ensure that the goal was achieved. Feedback on the effectiveness of the speech is key to the speaker's development. Speeches are videod and reviewed immediately to allow the developing speaker to identify strengths and areas for improvement. Over a period of a few hours, a working synthesis develops and new goals are set. Excellence is the eventual goal. Trips to the gym are great fun, but it's not the same as a focused session with an expert personal trainer. Your dreams are achievable, though they have to be worked for.
Founded by Vince Stevenson in 2006, the College of Public Speaking offers a full range of professional public speaking programs and services. We support leading businesses in developing effective communications strategies and all aspects of presentation skill and speaker development. Our offerings include presentation skills programs, speaker coaching, media training, leadership integration programs, corporate events, and keynotes. By building knowledge and skill, accelerating performance, and providing tools for continuous learning, we help our clients successfully compete in a demanding marketplace.
Case Studies of Current Clients
Janice is one of my current clients and works in Advertising. Here is some feedback leading up to one of our recent sessions. "Our work together hasn't only had a big impact on my speaking and presentations, but it's had a huge impact on my ability to contribute to meetings and in the interview process. My communication has come on in leaps and bounds and the major and surprising benefit is that the clarity of my thinking has also improved. When you suffer from muddled thinking, it's so hard to articulate your thoughts. This saves me a great deal of time and I'm certainly sleeping better these days. I used to spend a lot of time at work ruminating over my points and how I should express myself. Sleepless nights were debilitating and I lacked energy in the office. I even feel that I've got the time to go to the gym now. I have learnt so much through this training process."
Shirish works in Finance and travels extensively to the US, Europe and the Middle East. "The major thing I've learnt from this process is that I really need to focus on understanding the needs of my audience (which isn't easy when you have three separate bosses on three separate continents). I used to think that the only person I had to please was my bosses, how wrong I was. In terms of persuasion, I would previously describe myself as one-dimensional. Through this process, I have been introduced to something called pre-suasion and that is about creating great relationships with everybody I meet. I have learnt how to adjust my message to multiple stakeholders, often with different or competing requirements. With Vince's guidance, I have become a bit of a diplomat and I'm learning many psycholinguistic techniques from him. I also used to see things in black and white. But following this coaching I'm seeing many different shades of grey."
Stuart works for one of the world's largest outsourcing outfits with call centres around the world. "I used to worry a great deal about people's perception of me. I was an out and out perfectionist. The coaching has shown me that there is no one single answer either in business or public speaking, but multiple options. The skill, I see now is to generate options and then choose the best option and articulate that to my department in a confident and optimistic way. My mood has improved dramatically since I gave up on perfection. As Vince says often, 'what are the subjective success criteria for perfection?' It's no wonder I was always stressed and dissatisfied with myself and my team."
Sonya took over the family business after the sudden death of her brother. She says, "I was so distraught most of the time and constantly chasing my tail. Then I was ill for a while and I'm sure my absence cost us a lot of money. We had a lot of flux in the business and a high turnover of staff that was costing thousands every month. I was feeling so low I was only communicating by email (I didn't have the confidence to look my staff in the eyes), and I'm certain from events and conversations that nobody was reading those emails. This training has helped me to find my voice and helped me to be the leader that deep down I knew I could be. When you hit rock bottom, there's only one way you can go. I wish I had taken this training years ago. It would have had a profound impact on my health and on the health of the business. Vince has a very gentle way of teasing out the issues, helping with priorities and clarifying the message."
If your goals, plans, challenges and timings are not happening for you or your team, it could be down to a complex variety of things. If you're not confident in your communication, please contact me. It could be the missing link in your cycle of success. I'm sure that you'll find working with me invaluable. I'm just one call away. My number is below.
For more details on this executive course please contact Vince Stevenson at 0330 043 2677 or by emailing vince@collegeofpublicspeaking.co.uk.
Confidentiality
We offer a totally confidential service and encourage liaising with clients before they consider booking courses. We recognise the significant investment in your time and resources. We accept your tight timescales and eagerness to take the next steps. Our payment options are practical and simple. For your security, we hold no client payment details online. With ever sophisticated cybercrime, your safety and security are paramount.
Our Guarantee
The College of Public Speaking London is the UK's leading specialist public speaking organisation. All of our trainers are not just qualified in their field, but passionate specialists in their field. We met our colleagues working in the voluntary sector and that same passion shines through thirteen years later. Our guarantee is that you'll enjoy a great learning experience at our course centres in King's Cross. The King's Cross venue is a 5 minute walk from the London Underground, British Rail, and the Eurostar terminals. Accessibility is key - so come and join us within the next month. Check our Offers page to see what's hot this month.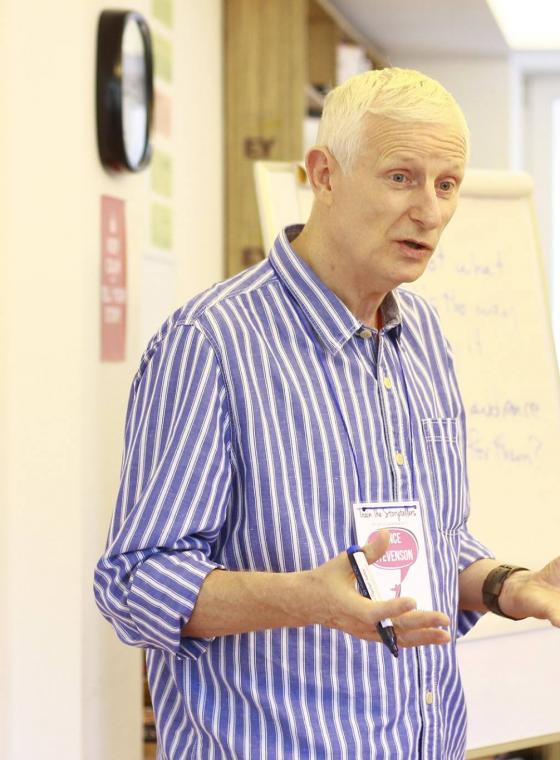 Vince Stevenson
Course Tutor
Vince Stevenson (The Fear Doctor) - Speaker - Trainer - Author
Vince is a well-known speaker/trainer and has won several awards for leadership, education and development. He is a founder of the College of Public Speaking London and works as Education Director managing all aspects of course delivery and content. Vince is also one of the UK's leading speech coaches. He has worked with leaders across the spectrum of politics, industry, finance as well as featuring primarily in a humanitarian role.
Vince is an avid learner and in recent years has accomplished many certificates in Learning and Communication Science with the University of California, San Diego, the University of Amsterdam, and Instructional Design with the Institute of Adult Learning, Singapore.
"An exceptionally useful day's training, delivered in a positive and personanable manner, very enjoyable and significant food for thought. Thank You."

"The anxiety is gone - now that I understand it. Not only can I make a presentation - I feel I have so much to give now. It's quite a transformation."

"Since attending the course, I feel like a completely different person; more confident, relaxed and easy going. I gave a speech at work last week and it went so so well."