Online 1-2-1 Training in Public Speaking and Presentation Skills
If you want to improve your ability to speak, pitch or generally be able to present better and confidently, then our 1-2-1 online training experience is for you. If you're looking for a highly personalised, professional and enjoyable approach to presentation and public speaking, then you can expect a rich mix of theory, experience and practice.

This course consists of personal one to one sessions that will be conducted online via video conferencing. Once you have booked the course, we will contact you to arrange the date and times for your personal sessions.
If you really want to speak, pitch or present to a new level FAST, you need intensive coaching from the real deal – someone who's been there and done it…
Your coach is Simon Maier, best selling author of nine books including:
The 100: Insights and lessons from 100 of the greatest speakers and speeches ever delivered

Speak Like a President

In Any Event: How to manage and deliver any corporate event
Course Summary
Testimonials
Confidentiality
Our Guarantee
Course Summary
Simon is a former Saatchi & Saatchi company Managing Director with over thirty years in the events and communications industries at the highest levels, worldwide.
He has led communication and event agencies through communication creativity, mindset and development exercises. He brings a freshness to everything.
He understands what works well on a stage and what doesn't, having directed openings for huge sporting events and produced TV spectaculars...
...run hugely successful sales and marketing conferences, and product launches in financial services and large pharmaceuticals...
...and led much of the privatisation event activity of the mid-eighties in the UK for a clutch of blue-chip companies.
Simon's specialities are:
Directing events of all shapes and sizes across market sectors worldwide
Presentation coaching and mentoring for senior executives in the world of politics and business and
Writing speeches for a wide range of high profile clients
He understands what audiences need and knows how to help you deliver it.
And he's also a realist. Down to earth and practical.
When you work 1-2-1 with Simon, he'll quickly help you pinpoint where to make the biggest improvements in the shortest time possible.
If you're looking for a highly personalised, professional and positive approach to public speaking, you can expect a rich mix of theory, discussion, and practice.
No matter your need, current level or past experiences, Simon can help you - confidentially, at times to suit, from your home or office...
This program is ideal for:
C-level executives
'Heads of' who are new to their roles
Those who want assistance in building confidence when speaking
Those who want extra support for a high-stakes presentation
Managers who are looking for the next level of presentation
Senior executives who seek to increase presence and vocal projection
Unconfident executives who need support in speaking at internal/external events
Individuals who require personal impact coaching
Executives needing to shift mindset from fixed to growth
Simon recognises that not everyone likes presenting, pitching or public speaking, but he knows how to make you feel more comfortable about the opportunity.
You may have a keynote to make. Or you may want to brush up on what you already know about stagecraft and public speaking.
But you might be feeling the pressure of work which means that you have little time to prepare or rehearse.
As you climb the corporate ladder, the expectation on you rises. But you probably can't easily get away during the week to attend a course.
Of course, you might just prefer the online 1-2-1 scenario for reasons of confidentiality.
You'll get true coaching and mentoring. You'll benefit from Simon's unique process, tailored specifically to your unique requirements...
Book your first two sessions here, from this page.
We'll be in touch to organise mutually convenient time for your sessions with Simon.
Each session lasts one hour.
If you find your first two sessions helpful and would like more, tell Simon and he'll explain all your options for further coaching.
Or, if you get what you need from just those two sessions - great. There will be no 'hard sell.'
Items likely to be covered in your first 1-hour session
Your specific concerns
Definition of what success looks/sounds like, and over what period
Your current strengths and areas for improvement
The specific purpose of one speech, pitch, presentation
An introduction to presentation delivery – starting with posture and body language
Belief – in yourself and what others think of you
Understanding the audience's needs
Analysis of fears and how to overcome them
Speech preparation
Preparation techniques
Tailoring a message for a specific audience
Presentation structures, with examples from the world of film, theatre, politics and business
Techniques to create an effective and logical flow
Mindset change
Areas likely to be covered in your second 1-hour session
Belief and mindset revisited
Review of exercises set from session one
How to create visual support if needed
How to avoid reading off slides
Tips to remember the content
Practice and rehearsals
How to use body language and expression to your advantage
Posture, breathing and non-verbal communications to enhance your style
Techniques to ensure that you come across with confidence and authority
Where nerves come from and how to control them
The importance of flexibility and being 'in the moment'
Improving vocal projection: using voice to engage and persuade
How to connect emotionally with your content so that you present with authenticity
How to use performance energy to exude confidence
Handling tough questions - or unexpected responses
No matter where you're at right now, Simon's program engenders rapid progress.
Testimonials
Dear Simon, Now that the event is over, just a short note to say a huge thank you for your speech-craft and hard work, commitment and patience. in making this year's congress a huge success. We've had unbelievable initial feedback from every direction on how happy people were with how we presented and we all know that your part in that was crucial. This is also a note to let you know how much we appreciated the work behind the scenes from everyone in the team.

James - Commercial Director - Automotive

Hi Simon, I just wanted to offer massive congratulations on making sure that we all did the 'right' thing on-stage. I've seen the quality of work you deliver before, but this was worthy of the word 'brilliant'. Please pass on my congratulations to the whole team; I know how hard you've all worked.

Julia - Principal - Healthcare

Dear Simon, On behalf of all of us, we would like to say a big thank you for your fantastic support onsite in Rome. You always consider our needs and everything was perfectly organised. The presentation coaching and stage mentoring paid off and I really appreciated the extra help at the last moment too!

Best regards - Ben - Account Director - IT

'The book explains how anyone really can speak in public and with confidence.'

Jane - Book Forum

'Maier paints a picture of events and conferences where you know the advice he's giving will work. That kind of practical knowledge breeds confidence.'

Claremont

Simon, thank you. I've delayed responding because I was receiving all sorts of praise and much of it is down to you. Most of it. Given the amount of time we had, you made what was complex simple and what was hard easy. That in itself is a challenge well met. Not least, it was (almost) a great deal of fun!

Trevor - CEO

The keynote was thorough, entertaining and engaging. The audience was with you all the way and several colleagues have asked me if you would come back in a few months' time and give us part two! I know that it's a long way, but let's discuss this. I was impressed that you understood what we needed to know and the groundwork for presentation coaching that your team gave us in the breakouts was terrific. This was a hard audience to please and they were delighted.

Mariam - Event Director - Telecoms

Dear Simon, Some expressions of thanks are made out of politeness. This isn't. It is made out of gratitude for your hard work and the fact that you made sure that this launch was without question our best to date. The words that we spoke and the films that we showed, the discussions we had and the debates, the conversations on and off-stage – masterminded with care and attention. Such enthusiasm and energy are rare.

Kind regards - Mohamed - Commercial Director - Pharmaceuticals
Confidentiality
We offer a totally confidential service and encourage liaising with clients before they consider booking courses. We recognise the significant investment in your time and resources. We accept your tight timescales and eagerness to take the next steps. Our payment options are practical and simple. For your security, we hold no client payment details online. With ever sophisticated cybercrime, your safety and security are paramount.
Our Guarantee
The College of Public Speaking London is the UK's leading specialist public speaking organisation. All of our trainers are not just qualified in their field, but passionate specialists in their field. We met our colleagues working in the voluntary sector and that same passion shines through thirteen years later. Our guarantee is that you'll enjoy a great learning experience at our course centres in King's Cross. The King's Cross venue is a 5 minute walk from the London Underground, British Rail, and the Eurostar terminals. Accessibility is key - so come and join us within the next month. Check our Offers page to see what's hot this month.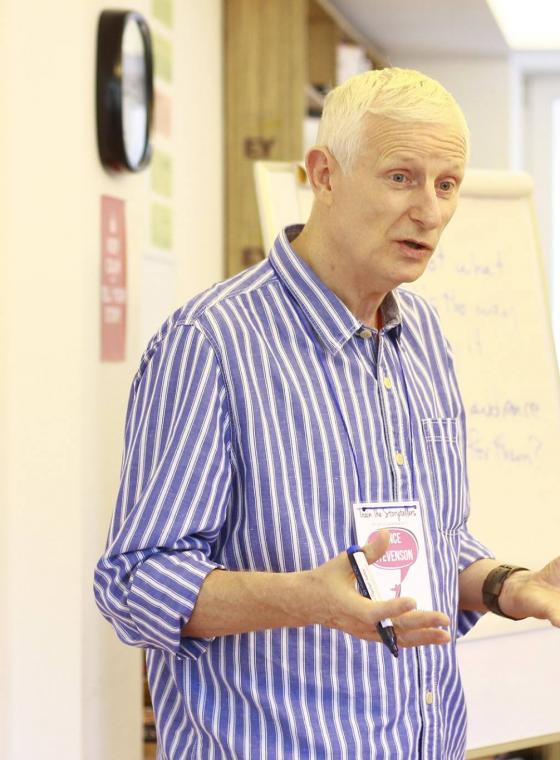 Vince Stevenson
Course Tutor
Vince Stevenson (The Fear Doctor) - Speaker - Trainer - Author
Vince is a well-known speaker/trainer and has won several awards for leadership, education and development. He is a founder of the College of Public Speaking London and works as Education Director managing all aspects of course delivery and content. Vince is also one of the UK's leading speech coaches. He has worked with leaders across the spectrum of politics, industry, finance as well as featuring primarily in a humanitarian role.
Vince is an avid learner and in recent years has accomplished many certificates in Learning and Communication Science with the University of California, San Diego, the University of Amsterdam, and Instructional Design with the Institute of Adult Learning, Singapore.
"An exceptionally useful day's training, delivered in a positive and personanable manner, very enjoyable and significant food for thought. Thank You."

"The anxiety is gone - now that I understand it. Not only can I make a presentation - I feel I have so much to give now. It's quite a transformation."

"Since attending the course, I feel like a completely different person; more confident, relaxed and easy going. I gave a speech at work last week and it went so so well."