Training the Trainer 2 Day Certification
Finally, here's the all-in-one, intensive two-day experience specifically designed to give trainers and managers the A-Z of the most effective skills, models and knowledge to make a lasting impact with their training.

"Give me just two days in London and I'll give you the skills and knowledge to turn average, ho-hum training into focused, structured, transformational inspiration... and TWO customised industry benchmarked accreditations as a trainer to add to your professional CV as proof..."
Maps, local hotels and amenities - all the local research in one document for you
Course Summary
Testimonials
Confidentiality
Our Guarantee
Course Summary
And you won't only feel the difference...
Because after completing the two days, you'll be able to add two types of respected professional trainer certifications to your CV.
Yes: you'll walk away with two benchmark certificates endorsed by:
1. The Institute of Leadership & Management (ILM) - the UK's leading provider of leadership, coaching and management qualifications and training, part of the City & Guilds Group, the biggest name in vocational education, with two million learners embarking on a qualification every year.
2. CIMA - founded in 1919, is the world's leading and largest professional body of management accountants, with over 232,000 members and students operating in 177 countries, working at the beating heart of your business.
The CIMA CPD product accreditation scheme recognises and promotes products and services that benefit CIMA members' mandatory requirement to engage in ongoing CPD.
And here's a familiar and novel sampling of what you'll discover when you join us at this next highly interactive workshop and create your own unique blend of the three core components of every training or coaching session:
Part 1: 'You' - The Trainer
As a trainer, who doesn't want to make their training more effective? Who doesn't want to work on the leading edge of innovation and business growth?
You'll discover how to choose the right learning style for many training situations and deliver a confident, consistent and compelling performance.
You'll find the perfect blend of familiarity and novelty in the delivery aspects which you can easily follow, adapt and adopt.
The 3 elements that must intersect to create Ideal Communication and achieve the trainer's Holy Grail: 'Planned Spontaneity'
How to use Pitch, Pace, Projection and Pause to make an impact
How to use your body posture, hands, gestures and voice - to relate to others, and when to use styles of non-verbal communication
How to use your eyes to create connection, confidence and build genuine trust
Discover the qualities of an ideal trainer (hint: their relationship to the qualities of an ideal student may surprise you!)
Why coaching and training are different - and when never to use a 'coaching' style
4 key learning concepts: 'child learning', 'adult learning', Single loop v double-loop learning
Part 2: 'Them' - The Students
Great trainers recognise the unique needs of every 'class' they work with, speak to their needs, and develop an easy rapport that facilitates learning and results in top approval ratings - and so will you.
You'll discover:
The 3 essential ingredients for a successful workshop or training session: Learning Environment, Learning Readiness, Participation
What to say in the critical first 90 seconds of any training workshop so that attendees trust you and become fully engaged. We'll develop this essential content with you, live during the workshop, so you can take it away and use it immediately
How to map out why students need your workshop to make any training brief compelling
The 3 critical - but secret - questions ALL students have at the outset of any training - and how you must answer them
The simple F.O.R. Formula that makes ice-breaking easy
How to use story techniques to make your points powerful and highly memorable
How to identify and cater to different personality types so your training appeals to students across the board
Part 3: 'It' - The Training
Creating effective, impactful training is equal parts art and science.
You'll discover:
The 5 stage model for creating effective training: Purpose, Outcomes, Steps, HR/Materials, Feedback
How to create effective Purpose Statements and Learning Outcomes - including the 'Implement, Improve, Innovate' model for understanding and choosing learning objectives
Clear as M.U.D.: 10 key activity and delivery options explained, and how to choose the appropriate ones
How to use words, pictures and metaphors for impact - including one simple technique to create powerful metaphors out of any point
What every trainer should have in their workshop 'toolkit'
The Rules of Feedback - including the 'Sprinkler Rule'
How to create an effective workshop feedback form - and the mistakes to avoid that can dangerously distort your feedback
Plus: Introduction to Training Techniques, Exercises, Models, Templates...
You'll also leave with a 31-page manual of essential training advice, templates, exercises, models, diagrams, further reading and additional resources, including:
Lesson Plan template
Feedback Form template
The 3 levels of listening: Competitive, Attentive, Active
3 ways to become a better listener
3 ways to use questions
The 4 fundamental types of question
4 styles of workshop question
And, when you book your place securely online from this website, you do so with the reassurance of knowing that a host of organisations have already seen profound and lasting results from the small investment in Training the Trainer course:
'I would recommend this course to absolutely anybody. The skills I've gained from the session have enabled me to create stronger relationships in my working environment' - Heena Surani, Landmark Aviation
Why the investment in Training the Trainer is essentially free!
In business and in organizations of all types, we recognize that effective training improves performance and motivation.
And as someone with responsibility for training, you have an incredible opportunity to positively influence other members of staff.
Imagine the effect on communication, atmosphere and morale, productivity your staff had the understanding to do their jobs perhaps just 5% better.
In pure hard numbers, what would that kind of impact be worth?
Well, let's be conservative about it!
Even if you have just THREE members of staff delivering a very modest £30,000 of value to your organisation per year each...
...getting another 5% out of them alone would equate to at least £4,500 of value per year, every year, wouldn't it?
And if you're able to touch 10 staff like that?
£15,000.
93% of employers report 'tangible increase in their managers' capability after an ILM qualification like this!
and we know the market value for capable professionals who can truly improve team performance is high.
Don't forget:
By the end of the two days, you'll be a doubly certified professional trainer endorsed by both ILM and CIMA.
Does it seem over-the-top to imagine that this might be worth an added £1,000 in salary to you every year for the rest of your career?
What might that be worth for you?
£20,000? £30,000, perhaps?
Well, the investment in attending our next Training the Trainer workshop is nothing like that.
It's the equivalent of about £13 per week over the next year...
Worth it to boost performance in your organisation and give you lasting, transferable skills as a trainer into the bargain? Show me a trainer who doesn't want to make a difference?
So: booking your place at the College of Public Speaking's next 2-day Training the Trainer is an easy decision!
After all:
• Within two days, you'll 'graduate' from the course with respected professional certifications.
• Small groups - so no matter what your level as a trainer, you're guaranteed the close attention and support of an experienced trainer as you make rapid improvement...
...organizations like the Foreign and Commonwealth Office, GlaxoSmithKlein, Save the Children, the Home Office, the Royal College Of Paediatrics and Child Health, Serco, London Borough of Haringey, A2B Aero, Sheffield Teaching Hospitals, Landmark Aviation, Lockheed Martin, Olympus Europe and more!
And you've seen how the tiny investment of your course fee pales into insignificance compared to the gains in team productivity and morale you can expect from becoming a more effective and consistent trainer.
Now it's up to you - will you join us at the College of Public Speaking's next Training the Trainer course, and become a doubly-certified professional trainer? Just click on any of the booking links below and take your place securely online now...
If you or your colleagues have any questions, please call Tracy on +44 (0) 330 043 2677 or email admin@collegeofpublicspeaking.co.uk.
Testimonials
'Excellent, knowledgeable, able to adapt very flexibly to delegates needs. Superb.'

Jessica Damms - Foreign and Commonwealth Office

'Very relaxed atmosphere, which made it easy to learn.'

Jocelyn Sekibo - London Borough of Haringey

'Very good approach, speed and ability to adapt the training to our needs. Very impressed.'

Alan Lovegrove - Serco

'Excellent rapport; brilliant communicator and deliverer. Great ability to be flexible and still bring back on track.'

Melanie Charles - TEN UK

'Excellent course - the learning will stay with me for the rest of my career!'

Jane Russell - Northumberland CC

'Amazing, thoroughly enjoyed course and feel it has made a huge difference to my training abilities. - will be recommending this to my colleagues, as I had it recommended to me.'

Dr Ingrid Jolley - Sheffield Teaching Hospitals

'The best training of trainer course I have ever attended. Thank you!'

Debbie Armstrong - Viridian Housing

Excellent - very engaging, attentive to delegates' needs. Good pace. Plenty of real examples'

Jim Parker - Ukas

'I now feel confident about designing and delivering a workshop'

Grace Graham - Sebright Children's Centre

'Fantastic, left me feeling motivated and confident! I've never felt so positive about carrying out my job.'

Corinne Moore - Tees Valley Unlimited

'Great course - has prompted me to review how I run training sessions - confidence improved in presenting.'

Sarah Quinlan - Royal College of Paediatrics

'Approach and support was excellent. Very clear throughout.'

Jeanette Judge - Home Office

'Fantastic!! Will be recommending to all that will listen.'

Chris Harvey - Landmark Aviation
Confidentiality
We offer a totally confidential service and encourage liaising with clients before they consider booking courses. We recognise the significant investment in your time and resources. We accept your tight timescales and eagerness to take the next steps. Our payment options are practical and simple. For your security, we hold no client payment details online. With ever sophisticated cybercrime, your safety and security are paramount.
Our Guarantee
The College of Public Speaking is the UK's leading specialist public speaking organisation. All of our trainers are not just qualified in their field, but passionate specialists who live and thrive in that sphere. Our guarantee is that you'll enjoy a great learning experience at our course centre in Kings Cross. The Kings Cross venue is a 5-minute walk from the London Underground, British Rail, and the Eurostar terminals. Accessibility is key - so come and join us within the next month. Check our Offers page to see what's hot this month.
All Course Dates
See below for a full list of available course dates. If you're ready to begin furthering your career, and uncover your hidden strengths, then sign up for one of the available slots.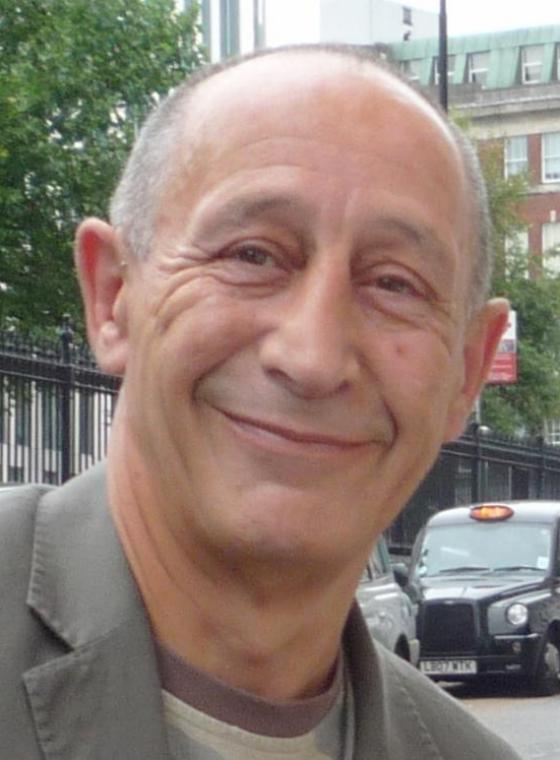 Alan Margolis
Course Tutor
Alan Margolis - HR Development training consultant with over 20 years experience
Alan Margolis is on The Register of Learning Providers No:10024264 and is a Human Resource Development training consultant with over 20 years experience using a variety of Groupwork skills, Counselling, Personal and Professional Development skills, Experiential Learning and Neuro-Linguistic Programming. He facilitates learning events in areas such as Conflict Resolution, Interpersonal Skills, Presenting with Impact, Management Communication, Return on Your Investment, Stress Management, Influencing & Negotiating Skills, Creative Problem Solving, Training the Trainers, Morale Building, Customer Delight and Teambuilding for organisations such as Investors in People, The British Standards Institution, The United Nations, Government Departments, Arts Organisations and various national and international companies. He believes in empowering and motivating people so, they are able to release their full personal and professional potential.
Alan moved into training and development by establishing his own training consultancy Hampstead Training Consultants 20 years ago after an extensive management career, including some years as Managing Director, with a variety of companies in fields such as marketing, manufacturing and retail. He was one of the first people to produce and market animal and environmentally friendly cosmetics. Alan also designed and produced a product endorsed by 'The Beatles' which was sold in over 100 countries.
"An exceptionally useful day's training, delivered in a positive and personanable manner, very enjoyable and significant food for thought. Thank You."

"The anxiety is gone - now that I understand it. Not only can I make a presentation - I feel I have so much to give now. It's quite a transformation."

"Since attending the course, I feel like a completely different person; more confident, relaxed and easy going. I gave a speech at work last week and it went so so well."